On Oct. 11, when the Nasdaq index tumbled to what was then its lowest since May--down 37% from the peak--16 Nasdaq stocks posted new highs. One such was Midland (MLAN), a little-known specialty insurer in Amelia, Ohio, that some pros call an "undiscovered gem" with all the allure of takeover bait.
A profitable underwriter of mobile-home insurance, Midland is trading at 26--below its book value of $30. And although it has been hitting new highs, the stock is still undervalued, analysts say, trading at a low price-earnings ratio: At 7.2--based on 2001 earnings estimates of $3.60--its p-e is one-third the level of its peers. That makes Midland an attractive target for outfits such as Cincinnati Financial, Chubb, or Berkshire Hathaway--all with much higher p-e's, says one analyst.
With the takeovers going on, Midland has to be on the radar screen of larger insurers seeking to round out their product lines, he says. In a buyout, he figures Midland is worth 50, or 14 times 2001 earnings. Any deal would have to be friendly, since 50% of Midland stock is owned by the Hayden family, led by Chairman Joseph Hayden III and CEO John Hayden.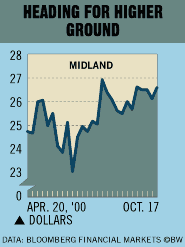 "Midland is an efficiently profitable little company that needs to get bigger," says market maven Mario Gabelli, whose mutual funds have acquired more than 10% of the stock. With its strong cash flow, "Midland has been buying back stock, which I like," he says. "We own a lot of shares, but we want to buy more," adds Gabelli.
Charles Gates of Credit Suisse First Boston, who rates the stock a buy, says Midland has an "excellent record," posting underwriting results superior to that of the property-casualty insurance industry." He expects Midland to earn $3.30 a share in 2000, up from $3.06 last year.
Before it's here, it's on the Bloomberg Terminal.
LEARN MORE