Commentary: How Xerox Ran Short Of Black Ink
Pamela L. Moore
It was Wall Street's version of a horror story. On Friday, Oct 13, Xerox Corp., having recently warned of yet another earnings shortfall, found itself combating European rumors that it was preparing to file for bankruptcy protection. As the shares continued to tumble, management was forced to state publicly that it has adequate liquidity to continue operations. But the announcement did little to calm investors who, only weeks before, were told by CEO Paul A. Allaire that Xerox's financial model was "unsustainable."
Since then, Xerox's freefall has continued. Through Oct. 18, shares have plunged 36%, to $7. From Xerox's May, 1999 peak of $64, investors have sheared $38 billion off of its market capitalization.
CREDIT SQUEEZE. Why the continuing slide? The immediate problem spooking the market was the fear that Xerox faces a credit squeeze. In an Oct. 10 Securities & Exchange Commission filing, Xerox said it had tapped into a $7 billion bank credit line. Unable to return to the credit markets to raise new funds to pay down previously floated debt it had coming due, Xerox had little choice but to turn to its banks.
Xerox wouldn't comment on how much of the line it has tapped or intends to use to pay back outstanding debts. But according to Salomon Smith Barney analyst Jonathan Rosenzweig, it has now drawn down as much as $3 billion to repay the short-term debt. With nearly $4 billion remaining on its credit lines and a BBB rating from debt-rating agency Standard & Poor's Corp., analysts say it is unlikely the company is in imminent danger of declaring bankruptcy. That said, Xerox faces a total of $17 billion in debt, a slew of operational problems and a history of poorly navigating increasing competition. Investors have plenty of reason to be wary.
What has gone so wrong to bring Xerox to this low place? Everything. "The wheels have just come off there," says Xerox veteran James W. Lundy, who now tracks the company at Gartner Group. Buyers are drying up as the Internet shifts much work formerly done by copiers to desktop printers. Also, the company has alienated customers through an ill-conceived sales reorganization. Revenues in the second quarter alone fell 4%. J.P. Morgan analyst Daniel Kunstler says they're likely to fall twice as much in the third quarter. "They're not getting their salespeople in front of customers," he explains.
Competition is also increasingly harsh. Canon has been taking dead aim at Xerox's bread-and-butter business: digital office copiers. It came out with a high-quality ImageRunner line last fall that has gained huge share against Xerox in Europe and the U.S. thanks to prices some 15% lower than Xerox's offering. And in the U.S., Canon outsold Xerox by two-to-one in the first half of 2000 in a critical segment of the office copier market, according to Gartner's DataQuest.
The high end doesn't look any better. For the past ten years, Xerox owned this end of the business with its superfast DocuTech printing line. But Xerox now faces a raft of competitors who've snatched at least a third of the market.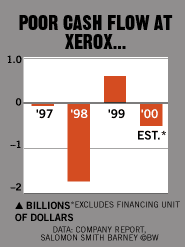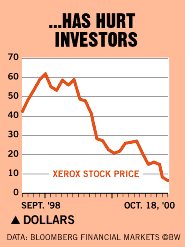 All this competition has eroded the company's earnings. In 2000, Wall Street expects it to post net earnings of just $247 million, a huge drop from last year's $1.42 billion. And that in turn has exacerbated Xerox's financial position. This year analysts are expecting negative cash flows from core operating units of $350 to $500 million.
Given its position, the company must act swiftly to restore credibility and raise cash. Management is slashing the dividend 75%. But the $400 million savings next year will be a drop in the bucket. Says Rosenzweig: "The key issue is how fast they can sell off assets." Xerox is looking at solutions ranging from outsourcing production and lay-offs to spin-offs or a complete overhaul. "Everything is on the table," says Allaire. He'd better move quickly. Time--and money--could be running short.