Commentary: How Pc Makers Are Reprogramming Themselves
by
Time was, Compaq Computer Corp. was the bellwether stock in the personal computer business. In the early 1990s, investors looked to it, software giant Microsoft Corp., and chipmaker Intel Corp. for clues about the industry's health. Then along came Dell Computer Corp., which sold millions of computers directly to consumers, first by phone and later via the Web. The upstart soon unseated Compaq as the hardware company to watch when taking the industry's pulse. No wonder Wall Street swooned when Dell, Intel and Apple each issued earnings warnings last month--sending their stocks south.
Then on Oct. 12, consumer PC maker Gateway Inc. announced profits had surged by 35% while sales grew by 16%. "The sky is not falling," said John J. Todd, Gateway's chief financial officer. "In fact, the market is still solid." The Street breathed a sigh of relief and the following day pushed Gateway's shares to $52 from $43. Now, analysts are calling Gateway the prototype for the industry. "Gateway is running with a model that gives them an advantage over everyone," gushes Chase H&Q analyst Walter J. Winnitzki.
But is Gateway actually a new bellwether? Not really. The PC business used to be governed by fairly simple rules: Make millions of boxes as cheaply as possible and keep the prices falling for ever-faster machines. It was a model that worked because the market was young and customers weren't sophisticated enough to ask for anything other than the boxes that were being delivered.
Today, the industry is far more fragmented. Dell is chasing business customers, Compaq is making headway with handhelds and Net access devices, and Gateway is focused on consumers. And buyers, many of whom own more than one computer, want a broader range of devices such as notebooks, handhelds and simple machines for surfing the Web.
BEFORE THE FALL. At the same time, the market is far more treacherous. Nearly everyone agrees that sales of PCs are going to plateau in the next five years as the market becomes increasingly saturated, and will start falling soon thereafter. How companies fill that void will separate the eventual winners from the losers. Gateway's promising numbers make clear it's on to something.
Its answer has been to concentrate on "beyond the box" revenues: software, training classes, financing, Internet service--anything that can be bundled with a PC to boost the margins on a sale. More than half of Gateway's profits come from such add-ons, compared with about 15% at major rivals, according to Chase's Winnitzki. Says Gateway CEO Jeffrey Weitzen: "We're building a business that's about more than just the PC."
Gateway is finding new ways to reach consumers, too. Since 1996, the company has opened more than 600 Country Stores and kiosks in OfficeMax locations--retail outposts where customers can test and order a machine. The stores also provide a platform for selling services such as classes, which offer margins as high as 90%, compared with the company's 23% gross margins overall.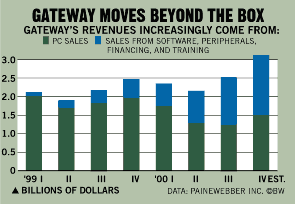 That formula may not be the prescription for every PC maker. But competitors are pursuing similar paths. Apple, for instance, is contemplating its own retail chain. And Hewlett-Packard Co. now sells its wares at kiosks in Circuit City, Staples, and Best Buy stores.
Gateway was early to recognize that the business of selling PCs has changed, and will likely prosper because of it. But while investors should watch Gateway for ideas on how to run a PC company, they should not look to it--or any other rival--as a proxy for the industry's health. The PC market of old has become too fractured to be represented by any one company.
Before it's here, it's on the Bloomberg Terminal.
LEARN MORE