Cancel The Boxster. My Portfolio's Been Pummeled
With the market shaky, watch out for the "reverse wealth" effect
Laura Cohn
Arnie Weiner and his wife, Merle, are going to hang on to their 15-year-old boat a little longer. For months, Arnie, a 53-year-old independent insurance agent in Phoenix, had been watching hefty profits pile up in his portfolio of tech stocks and dreaming of replacing his 20-foot Wellcraft ski boat. Not anymore. "We were talking about blowing a few extra grand on a new boat," Weiner says, "but then the market went down."
What's going on here? After five years of double-digit gains, U.S. equity markets have gone into reverse. The Dow Jones industrial average has fallen 14% after peaking in January, and the Nasdaq Composite Index has lost 36% from its March high. The dismal year is hitting Americans squarely in the pocketbook: Since March, investors have lost about $2 trillion in paper wealth. Economists say that's likely to hurt consumer confidence and spending, especially with the personal savings rate in negative territory.
With nearly 50% of U.S. households owning stocks--a historic high--consumer spending is increasingly sensitive to gyrations on Wall Street. Indeed, as the market rose during the 1990s, consumers felt richer and spent money like crazy. Economists figure that every $1 gain in stock-market wealth bumps up annual consumer spending by 3 cents to 7 cents after a lag of about 12 to 36 months, a phenomenon known as the "wealth effect."
But the wealth effect can also act in reverse. When the sharp tech correction knocked 9% off the Nasdaq in April, retail sales fell by 0.5% that month, economists point out. But because consumption can gyrate from month to month, experts prefer to look at the relationship between retail sales and the Nasdaq over a three-month period. And on average, retail sales have largely followed the Nasdaq over the course of the last several years. Economists at Lehman Brothers Inc. figure that October's decline in the Nasdaq will knock a hefty 0.7% off that month's retail sales.
First to be hit will be discretionary spending, such as purchases of boats and luxury cars. But there are signs that the market slowdown is already affecting broader spending as well. Manhattan Mortgage Co., metropolitan New York's No. 1 residential mortgage broker, has seen its new mortgage volume fall by nearly 20%. "The real estate market has been driven more by stocks than by interest rates," says President Melissa L. Cohn.
EASIER JOB. So far, the Federal Reserve has welcomed the spending slowdown, since it's making the job of cooling an overheated economy easier. With markets flat throughout the summer, Fed policymakers noted at their Aug. 22 meeting that consumer demand would be "held back" by a "waning and eventual disappearance of positive wealth effects." Overall consumer demand has been on a steady decline since mid-September, according to a composite index based on a weekly survey by Wall Street consultants ISI Group.
But what the Fed cannot predict is how negative wealth effects triggered by the market's latest tumble will play out. Some Fed insiders fret that consumers will trim their spending more quickly and drastically in a market downturn than they raised it in up markets. "The reverse wealth effect can occur quicker than the wealth effect does, if investor psychology and confidence move into panic mode," says Ethan S. Harris, an economist at Lehman Brothers.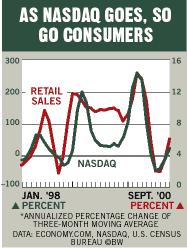 Today's investors may be especially vulnerable, because they've financed their stock purchases with near-record levels of debt. On Oct. 17, the New York Stock Exchange reported that margin borrowing jumped in September to $250.8 billion, the highest level in five months. "The market is so leveraged today, which could exacerbate a decline," says Mark M. Zandi, chief economist at Economy.com Inc., an economics consultant in West Chester, Pa. As share prices fall, borrowers get margin calls and are forced to put up more cash--leaving them with less to spend.
Still, there is little reason to panic so far. Despite Wall Street's vapors, the economy has a lot of steam: Consumer confidence remains high, unemployment is still at its lowest point in a generation, and productivity is surging. But the shrinking wealth from falling stock prices raises the risk that the economy's slowdown could turn into a stall--and ruin the Fed's soft landing.
Before it's here, it's on the Bloomberg Terminal.
LEARN MORE