Brazil: Looser Policies Should Keep Paying Off
by
Brazil's solid economic performance so far in 2000 is set to continue in 2001. Barring any external shocks, of course, 4% economic growth seems likely both this year and next. Inflation for 2000 should be close to the government's 6% projection, and it will dip further in 2001.
A key reason for the upbeat outlook is the reversal of past tightness in both monetary and fiscal policies after Brazil's massive currency devaluation in early 1999. Now interest rates are down to 16.5%, from a peak of 45% last year. With inflation declining, the central bank has room to cut more by yearend.
Plus, fiscal policy has more leeway to be stimulative. The primary budget balance, which excludes interest on the public debt, has swung from a deficit of 1% of gross domestic product in 1998 to a surplus of 3% in 1999, and the balance for 2000 is running well ahead of the loan targets agreed upon with the International Monetary Fund.
Against this favorable policy backdrop, business investment will continue to lead growth in domestic demand and industrial output (chart). Consumer spending, now a laggard, should strengthen as joblessness falls, real incomes pick up, and confidence is restored.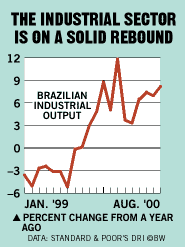 Foreign trade is proving to be a battle, however. Brazil's trade surplus could completely vanish by yearend, reflecting weak export prices, higher oil prices, and rising imports amid stronger domestic spending. Still, the current account deficit is only about 4% of GDP, and it is more than fully covered by foreign direct investment and portfolio capital.
The improving economy will also help the incumbent coalition government of President Fernando Henrique Cardoso in the runup to the 2002 Presidential elections. Cardoso must step down, and the left-wing opposition made gains in the Oct. 1 local elections. However, the stronger economy has shored up Cardoso's approval ratings to the highest level since the currency crisis, based on an early October poll. The failure of a center-right candidate to prevail in 2002 would be a blow to Brazil's economic prospects.
Before it's here, it's on the Bloomberg Terminal.
LEARN MORE