business
Argentina's De La Rua: He Used To Be Boring But Clean
A scandal has President de la Rua in deep political trouble
By
Argentina's De La Rua: He Used To Be Boring But Clean
A scandal has President de la Rua in deep political trouble
By
Fernando de la Rua has never been one to draw the limelight. While campaigning for the presidency of Argentina last year, he rarely received invitations to appear on television talk shows, as producers feared his dullness would dent ratings. Yet de la Rua's image as a boring but squeaky-clean politician played well with the country's voters, who had tired of the flamboyant ways of his predecessor, Carlos Saul Menem.
Now, thanks to a widening bribery scandal, Argentina's soft-spoken chief executive is caught in the glare of the TV cameras. At the beginning of August, opposition politicians accused close associates of the President of bribing senators to pass key labor legislation. The charges remain unproven, though an investigation is under way.
NAGGING DOUBTS. Outcome aside, the brouhaha has already led to the resignation of the Vice-President and may eventually bring about a damaging split in the ruling coalition, known as the Alliance. That could jeopardize the government's ability to enact reforms designed to curb a yawning fiscal deficit and shore up crumbling investor confidence. Indeed, 10 months into his four-year term, the Argentine President is already looking like a lame duck. "Even the successful resolution of the crisis wouldn't be enough to clear up doubts about de la Rua's leadership," says Walter T. Molano, head of research at BCP Securities Inc. in Greenwich, Conn.
But restoring his tarnished image is the least of de la Rua's problems. The Oct. 6th resignation of his well-regarded Vice-President, Carlos "Chacho" Alvarez, has thrown the future of the Alliance into question. Alvarez, who heads the left-leaning Frepaso party, abandoned his post after de la Rua refused to sack officials accused of funneling cash to legislators to win support for a controversial labor reform bill approved in April. Although the two men are once again on speaking terms, there's no sign that a political truce between the two coalition partners will be reached anytime soon.
And time is a luxury the de la Rua administration can scarcely afford. Congress has just begun debating the government's 2001 budget proposal, which contains some $700 million in politically sensitive spending cuts. Lacking a majority of its own, de la Rua's Radical Party needs the support of Frepaso, or the hostile Peronist opposition, to pass the budget and fulfill its promise to the International Monetary Fund to trim the fiscal deficit. With consumer confidence already battered by a two-year recession that shows no signs of quitting (chart), popular discontent with yet another dose of IMF-imposed austerity is at an all-time high. For de la Rua's enemies, the temptation to capitalize on such disaffection may be too powerful to resist.
The budget negotiations will be a key test of de la Rua's ability to govern. "A weakening of the coalition and the setting in of reform fatigue would be sufficient reason for a negative downgrade," says John Chambers, managing director for Standard & Poor's in New York. Such talk is cause for concern, since a downgrade in Argentina's sovereign ratings would severely handicap the government's efforts to raise the $19 billion it needs to pay off maturing debt and fulfill other obligations in what remains of 2000 and in 2001. Besides, with 22% of next year's budget already earmarked for servicing of the public debt, Argentina may not be able to withstand the higher risk premium international markets will demand in the event of a downgrade. The worst-case scenario: an Argentine debt default.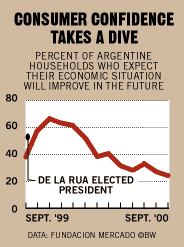 Paradoxically, the one move that would ensure the survival of the ruling coalition could end up worrying investors even more. Members of Frepaso have hinged their continued support of de la Rua on the removal of intelligence chief Fernando de Santibanes, whose agency is believed to be the source of the alleged bribes. However, Santibanes, a former banker and a close friend of the President, is regarded by Wall Street as one of the main champions of the government's orthodox economic program. His departure could weaken de la Rua's resolve to resist calls from industrialists and Peronists for an expansionary fiscal policy. So de la Rua faces a difficult choice. "He's damned if he does and damned if he doesn't," says Molano.
But even if the scandal were to blow over tomorrow, de la Rua's credibility may be irreparably damaged. A recent poll showed that 52% of the population thinks the present government is at least as corrupt as its predecessor. Nowadays, de la Rua is looking anything but boring.