business
A Worrisome High Tech Divide...May Get Worse As Homes Get Wired
Ariane Sains
As chairman of SEB, Jacob Wallenberg is used to answering unusual questions about the bank-insurance company's business. But he seemed startled when a small shareholder at the Mar. 28 annual meeting of Investor, which owns 10% of SEB, demanded to know how he expected her to continue using the bank if her local branch was shut down. "What am I supposed to do?" she asked. "Buy a new computer just so I can do my banking? Or drive 120 kilometers to the office that will be nearest?"
With 60% of its people enjoying access to computers either at home, schools, or libraries, and 70% using mobile phones, Sweden is often portrayed as one of the most wired places on earth. But the technology craze may be creating a society of info-tech haves and have-nots.
Increasingly, without a computer or mobile Net service, Swedes can't do their banking, routine business with government agencies, get information about goods and services, or file their tax returns. The most up-to-date list of funds open for investment under Sweden's new pension system is only available online. Union leaders also worry that blue-collar workers without computers on the job or at home are being shut out of online training programs.
Banking may be the most severe problem. To cut costs, banks are closing branch offices, especially in rural areas. As a replacement, they're pushing Internet services, which have higher margins than branch-office services. But Internet banking isn't an option for everyone, says Leif Karlsson, executive secretary of the Pensionaires' National Organization (PRO). "We're not against technology. What we are saying is that there have to be alternatives for people who don't have the Internet."
Computer use in Sweden drops dramatically at lower income levels and with rising age. Just 23% of those between 55 and 64 say they have access to a computer, according to government statistics. That falls to 8% for those between 65 and 74. When they do, it is often at a library or other public place, making it difficult to use any kind of service, such as Internet banking or e-shopping, that requires encrypted software.
PROMISES, PROMISES. When the state-owned postal banking system was sold to a group of commercial banks, part of the plan was to close post offices and phase out banking services. That didn't sit well with the PRO. In a sharply worded letter, its board reminded the government that for many of its members, Internet banking wasn't possible.
The PRO protest got the bankers and the government to promise continued service. But they haven't said how they will make sure that happens or what it will cost customers. And bankers such as ForeningsSparbanken CEO Birgitta Johansson-Hedberg concede that the IT push is going to shut some people out: "Those who refuse to move with the times will have to compromise on their quality of life."
With its serene neighborhood and view of the woods, the house seems like a pastoral oasis tucked away from Sweden's high-tech society. But instead of talking in the morning, family members can leave each other e-mail from a screen built into the fridge.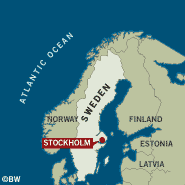 They can also use their cell phones to turn on the heat and lights before they come home or to check whether the last person to use the iron turned it off. The 180-square-meter house is one of six being built in the Hagaberg section of Varmdo, a Stockholm suburb. Its creators, e2 Home, a joint venture between telecom company Ericsson and appliance manufacturer Electrolux, are betting that this is the house of the future. They and builder JM envision a day when prospective homeowners will choose their high-tech options the way car buyers routinely choose options.
"We're doing this not just because it's flashy and fun to push buttons but to create a more comfortable environment," says Carl Eric Stalberg, JM's chief executive. It may not be too comfortable financially, though: While the partners decline to name the asking price, the company says it won't be low. So pretty soon, instead of envying their neighbor's four fireplaces and two boats, Swedes may be longing for the broadest bandwidth and the sauna you can warm while stuck in traffic.
Before it's here, it's on the Bloomberg Terminal.
LEARN MORE