Why High Priced Oil Isn't Sparking Inflation
Pallavi Gogoi
Why aren't high prices for oil and natural gas causing more inflation? Partly because other commodities aren't rising as rapidly--or are actually falling in price. Gold has lost its luster, grains are selling at decade-low prices, and cocoa is a third cheaper than it was last year. Even the bacon you bring home costs less to produce than it did a few years ago: Lean hogs are going for 60 cents a pound, down from over 80 cents in 1997.
Low prices for many commodities are tough on producers, who range from Midwest farm families to developing nations dependent on raw-material exports. But overall they're helping to keep inflation in check--and that's a boon for consumers.
Look, for example, at the widely watched Commodity Research Bureau index, which tracks prices of 17 commodities including heating oil, natural gas, sugar, coffee, orange juice, soybeans, silver, cotton, and cattle. Although the big jump in heating oil and natural gas prices has helped send the index up from a little over 180 in early 1999 to nearly 230 today, that leaves it near its average for the 1990s--and well below the levels of 1995 through 1997.
Better yet, the oil-driven rise in raw materials prices isn't getting passed along to consumers. According to the Labor Dept.'s Producer Price Index, prices received by producers of raw materials, including fuels, are up 16% from a year ago. But look farther down the supply chain: Prices received by makers of finished goods are up only 3.3% over the past year. The Consumer Price Index is up only 3.4% over the past year--and just 2.5% excluding the volatile food and energy categories.
There are several reasons for low commodity prices. For one, most commodity producers "don't have a market-distorting power like OPEC" to prop up prices, says Diane C. Swonk, chief economist at Bank One Corp. Without such cartel bottlenecks, producers get walloped when supplies flood the markets. For instance, lumber prices are at five-year lows. With the housing sector accounting for about 40% of lumber demand and housing starts softening, lumber inventories are growing. And the upside for industrial metals like copper, aluminum, and nickel is "modest at best," says William O'Neill, director of commodity research at Merrill Lynch & Co.
In the case of agricultural commodities, good weather and technological advances have produced bumper crops. The latest corn and soybean crops are, collectively, the biggest on record. Meanwhile, the strong dollar has dampened exports. That combination has depressed prices. "Net income from the sale of agriculture commodities [excluding government payments] is the lowest since 1984, when we had the last farm crisis," notes Keith J. Collins, chief economist at the U.S. Agriculture Dept.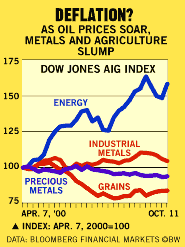 BOON TO A FEW. The high cost of oil and low agriculture prices have been a double whammy for farm families, who haven't been able to pass along the costs of higher diesel that runs their tractors and harvesting equipment. But the low prices have been a boon for a select group of commodities companies such as Cargill Inc. and Archer Daniels Midland Co. "Considering consumers continue to pay about the same or more for the finished product, merchandisers and processors are the ones making a bigger margin," says Jim W. Miller, chief economist at the National Farmers Union in Washington.
In other words, lower prices on the farm don't translate directly into lower prices on supermarket shelves. "The transportation and packaging of a loaf of bread far exceeds the cost of the wheat that goes into making it," says James F. O'Sullivan, economist at J.P. Morgan & Co.
Still, the fact that farm goods and other commodities aren't rising apace with oil and natural gas is good news for the economy overall. Even if consumers are paying through the nose to fill their gas tanks and heat their homes, they aren't feeling the extra pinch.
Before it's here, it's on the Bloomberg Terminal.
LEARN MORE