U.S.: It Looks As If Growth Was Just Taking A Breather
A rebound in demand and leaner inventories will boost the fourth quarter
by
Amid worries over tech stocks, profits, oil prices, and liquidity, an increasing number of Gloomy Guses are concerned that the economy is headed for trouble. Maybe they should take a look at the latest economic data. The spring and summer slowdown in demand appears to have run its course, clearing the way for better growth in the next couple of quarters.
To be sure, the risks are out there from $50 oil or a financial-market shock, especially in the tech sector. But remember that the Nasdaq composite index lost a third of its value in only four weeks earlier this year, and six months later, the economy's growth prospects, while not booming, still look quite good.
Indeed, the latest numbers show that the economy came out of the third quarter a lot stronger that it went in. Consumer spending has rebounded, helped by rising car sales, and housing is stabilizing after its earlier weakness. Also, households are still taking on debt at a rapid rate, reflecting their upbeat feelings about prospects for jobs and income.
Most important, labor markets remain solid (chart). The September employment report showed surprisingly strong job growth, even excluding returning strikers. Manufacturing industries showed some weakness, but the service sector, which employs about 80% of all workers, posted a large gain, and the unemployment rate fell back to an expansion low of 3.9%.
The pool of available workers--those officially counted as jobless who are looking for work, plus those who are not looking but say they want a job--shrank in September, and the median duration of unemployment fell to 5.2 weeks, the shortest reading during this 9 1/2-year expansion. All this suggests no loosening in the economy's extremely tight labor markets.
THE SEPTEMBER JOBS DATA and other reports show that interest rate hikes by the Federal Reserve, higher oil prices, and the flattening of stock prices during the past year have slowed overall demand and job creation, but they have done little real damage.
Clearly, those factors have removed the boom conditions that existed earlier this year, when the economy was growing at a 6% yearly rate. Tech-driven capital spending helped to fuel that rapid growth, but recent slowing trends in high-tech orders, especially for communications equipment, suggest a cooler growth pace for business investment in coming quarters. Third-quarter growth in real gross domestic product, due to be reported by the Commerce Dept. on Oct. 27, seems likely to come in around 3%. But fourth-quarter growth will probably be considerably faster than that.
The reason is the expected improvement in the mix of third-quarter GDP. The data will show a big drag from slower inventory accumulation, despite a rebound in overall demand. Consumer spending has perked up, aided by September's 17.7 million pace of auto sales (chart). Consumer outlays appear to have grown at an annual rate of 4.5% to 5% last quarter, after slipping to 3.1% in the second quarter. Firmer demand and leaner inventories will clear the way for stronger GDP growth in the fourth quarter.
Some of the recent weakness in factory employment and output reflects this inventory adjustment, but not all of it. Manufacturing jobs had not grown over the two years prior to August, but payrolls dropped by 117,000 in August and 66,000 in September. A big chunk of those losses occurred in motor vehicles and parts, where the quarter's inventory adjustment will be the greatest. Third-quarter motor-vehicle output plunged at an annual rate of more than 20%, also because of downtime at Ford Motor Co. to replace recalled Bridgestone/Firestone tires.
STILL, OVERALL JOB GROWTH in September was the strongest in several months. Adjusted for the return of 75,000 striking communications workers, private payrolls increased by 213,000 in the month for an average gain of 154,000 for the quarter, up from 128,000 in the second quarter. The third-quarter pace will keep pressure on the labor markets, as employers face an already shallow pool of available workers.
One of the driest pools may be that for supervisory and managerial positions. Surprisingly, that category has accounted for a disproportionate share of the overall slowing in job growth over the past year, but the jobless rate among managerial employees has barely budged. Annual job growth among production and non-supervisory workers slowed to 2.2% in September, little changed from the 2.3% pace of a year ago (chart).
During the past year, the annual pace of job growth among managers, as counted by the Labor Dept.'s survey of households, has plummeted from 5% per year to almost zero, similar to a recession experience. However, the jobless rate for this group, some 30% of total employment, has remained at just under 2% for about three years. The conclusion here is that the falloff in employment growth does not show up as layoffs that would push up joblessness. Instead, it more likely reflects a segment of the labor market that has altogether run out of bodies to fill new slots.
DESPITE TIGHT JOB MARKETS, wage rates of production workers still show no sign of rapid acceleration. Hourly pay increased a tame 0.2% in September, to an average of $13.83, and yearly growth in wages, at 3.6% in September, has been little changed over the past year. That trend is in marked contrast, however, to the speedup in the employment cost index, which includes all workers and benefits.
So far, productivity gains have been sufficient to cover even the 4.5% yearly growth in labor costs, as measured by the ECI, and third-quarter productivity should post another healthy gain. Overall hours worked for the quarter only edged up, at an annual rate of 0.3%. That means all of the quarter's economic growth will come from productivity--an anti-inflationary plus.
The new element in the inflation outlook is oil--not its direct effect on prices, but its possible impact on inflation expectations. So far, surveys suggest that high oil prices have lifted expectations by only a small amount, but the September spike in oil prices has not yet been reflected in the price indexes, and higher heating oil prices look likely this winter.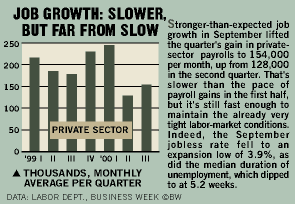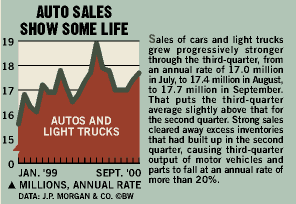 Over the past year, real wages of production workers, adjusted by the consumer price index, have already stopped growing. The danger, reflected in the Federal Reserve's Oct. 3 policy statement, is that employers will have to offer higher pay to shore up workers' buying power in order to keep them from defecting.
The data strongly argue that an economy with supports as strong as this one is going to continue creating jobs, while keeping consumers spending, businesses investing, and profits growing--though maybe not as fast as overly optimistic investors expected. Yes, the economy has slowed a notch, but it's way too early to worry that it has slowed too much.
Before it's here, it's on the Bloomberg Terminal.
LEARN MORE