The Washer Wars: Whirlpool's Spin
A talk with Dave Whitwam and Jeff Fettig
Whirlpool Corp. (WHR) Chairman and CEO David R. Whitwam is a globalist. Over his 14-year tenure, Whirlpool has moved into Latin America, Europe, Asia, Australia, and, most recently, Africa. Today, the Benton Harbor (Mich.) company is the world's biggest manufacturer of major household appliances, with annual sales of $10.3 billion.
If Whitwam has any regret, it's that he did not expand even further. With the exception of Europe, where the sagging euro is depressing earnings, Whirlpool's overseas operations are chalking up big gains in sales and profits. But Whitwam is in trouble at home. For one thing, Whirlpool is locked in a profit-squeezing price war with the No. 2 household-appliance manufacturer, General Electric Co. (GE) Whirlpool's domestic sales--which jumped 10% in 1999--will slide 4% in 2000, according to Merrill Lynch & Co. analyst Justin C. Maurer.
Perhaps even more troubling are seismic changes in U.S. retailing. By yearend, Circuit City Stores Inc. (CC) will no longer be stocking Whirlpool appliances. That, the company warns, will cut its third-quarter income by $35 million, to as low as $70 million, and sales by 250,000 units. A year earlier, Whirlpool netted $107 million.
And while Whirlpool still supplies Sears, Roebuck & Co. (S) with Kenmore appliances, discounters pose a threat. Home Depot Inc. (HD) aims to have big-ticket appliances in all its stores before 2001--and for now, it's carrying only GE and Maytag Corp. (MYG) products. Wal-Mart Stores Inc. (WMT) also is testing the market, but only with GE goods. All this, plus rumors that Sweden's Electrolux Group (ELUX) will merge with Maytag to create a stronger rival, has pushed Whirlpool's shares down more than 40% in the last year, to an eight-year low of less than $40.
Recently, Whitwam, 58, and Whirlpool President Jeff M. Fettig, 42, took BUSINESS WEEK correspondent Michael Arndt on a market-by-market tour of Whirlpool's operations.
Q:

I'm puzzled. The housing sector, though slowing, is likely to have one of its best years in history. So why is the appliance industry having such a hard time?

WHITWAM: I'm not sure I would describe it as having a hard time. We really view the Circuit City decision to exit the appliance business as a one-time event in the North American marketplace that will hit our performance during the third quarter and the fourth quarter and then will go away. The consumer demand that was filled by Circuit City is just going to migrate naturally to others in the existing retail structure. In our view this does not signal a fundamental, structural change in the performance of the company.
Q: Would some of the changes in retailing--Circuit City getting out, Wal-Mart coming in--favor some manufacturers over others? Does this tend to favor big players like you?
WHITWAM: As changes take place in the retail environment, the single most important strength that a manufacturer needs to have is the brand. Price competition comes where there is no differentiation between competitors' offerings, where they look alike, they function alike, they've got the same features. The brand is what sells to the customer. And we think we have a stable of brands that retailers need to have on their floors.
Q: Moving overseas, you've made a big commitment in Europe. How's it going for you?
FETTIG: We've been in Europe 12 years now. We're the third-largest appliance company in Europe. It's also a very important part of our global business. We do product designs in Europe that we use in other parts of the world, and vice versa. We also share technology. So it's very much integrated into our global network.
Q: One of your competitors in Europe is Electrolux, and there has been a lot of speculation about Electrolux trying to get bigger in the U.S. by buying Maytag. How do you view Electrolux as a competitor?
WHITWAM: We are the largest producer of appliances, and by a fairly wide margin, in the U.S. And if we think about various combinations of companies coming together, we're going to remain the largest producer in North America--even if the No. 4 and No. 3 players get together, they're still No. 3.
Q: Could you take me a little bit around the rest of world and tell me how things are shaping up in Asia?
FETTIG: We look at a market like Asia as a good market for four core products: washing machines, refrigerators, microwave ovens, and air conditioners. We have now established the Whirlpool brand in most of the emerging markets in Asia. We're growing this business nicely, double digits every year. Our largest single market in Asia is India, where we're now the market leader. We're very happy with that, given that it didn't even exist five years ago.
Q: What about China?
FETTIG: We have three manufacturing facilities there. One is for microwave ovens, which we use as a global export base. Part of our compressor business has an operation in China. But our main business is our washing-machine venture. It's really beginning now to have a presence in the China market.
WHITWAM: [The venture] is serving the strategic purpose we intend: to continually build brand awareness and loyalty as that market changes. And it is going through a lot of changes, with lots of local manufacturers. Most of the foreign competitors are there, too. Our task was to establish the Whirlpool brand firmly in the minds of the Chinese consumer and then build on that beyond washers.
Q: The other overseas market you've staked a claim on is Latin America. How's that shaping up?
WHITWAM: We may have our strongest consumer-branded business anywhere in the world in Brazil. We have about 45% value share of all the appliances that are sold in Brazil. Brazil went through difficult times the last two, three years. But we see the industry up 10% today. And again, the important thing is to integrate it into a global platform.
Q: How far can you take this global platform before you find you are pushing a product on people that they don't like?
FETTIG: The technology we use is virtually the same around the world. The issue is how do you apply it.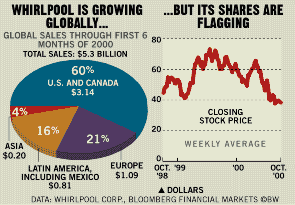 WHITWAM: Maybe we should stop there and talk about what your question really is: Are we forcing product designs on markets for the sake of having global products? We are absolutely not. But the customer doesn't care what the product contains inside, the components or materials or technology that we use. In most of our products, our view is that 60% to 70% of the content is identical. When we do that, we are able to leverage our supply base, we are able to leverage our design costs, and, as important, we are able to migrate innovation rapidly around the world. If you have totally different platforms, you can't migrate innovation around the world.
Q: One more question, getting back to my first question on why things look so rough. The reason I phrased it that way was because within the last year your stock was up in the 70s and today it's way down. Is Wall Street giving you a fair shake?
WHITWAM: We're not unique; this has happened to lots of companies in North America. But we don't believe the market is reflecting the value this company is creating, and we think the discounts that companies like ours have are not really rational.
Before it's here, it's on the Bloomberg Terminal.
LEARN MORE