South Koreans Are Crazy For Cramming
Pressure on students means cram schools are big business
Moon Ihlwan
Park Dae Hyon leaves his home in Seoul at dawn most days and doesn't return until after midnight. Boning up for college entrance exams, the 18-year-old South Korean spends 10 hours at school. Then comes the cramming: Park's five tutors teach him everything from English to math and science. For Park's parents, it's a pricey regimen. His school tuition is just $1,300 a year, but Park's tutors cost an additional $36,000. Add in his sister's tutors, and education costs Park's parents roughly half their income. "We know we're paying way too much," says Lim Myong Hee, Park's mother. "But their lives will be decided by the universities they go to."
Long obsessed with education, Koreans are becoming positively manic about it these days. The nation's shift to a tech-driven economy is pushing parents and children into a savage competition for slots in the nation's elite colleges and universities. And that's fueling a boom in private tutoring services, including many delivered via the Net. Cram schools, in short, are becoming big business. Among the investors piling in: Goldman, Sachs & Co., which paid $4 million last August for a 15% piece of an educational portal called Baeoom.com.
The market for cram schools, tutors, practice exam services, and other extracurricular aids is huge. Koreans spent $8.3 billion on out-of-school instruction in 1990; today they spend more than $26 billion. This adds up to more than a third of total spending on education, according to an official survey. And, as in Japan, where cram schools have long been popular, the starting age is slipping downward. Hansol Gyoyook Co. now offers 2-year-olds a 20-minute-per-week tutoring service that includes Korean, basic English, and math. Revenues have climbed from $270,000 in 1991, Hansol Gyoyook's first year, to $164 million last year. "There's no sign Koreans are letting up in spending for learning," says Kim Heung Ju, director general at the state-funded Korean Educational Development Institute.
AT HOME. That's putting it mildly. Some 6 million children, mostly between 6 and 12, now use practice-testing services, which take in $2.7 billion yearly in sales. Market leader Daekyo Co. sends 13,000 tutors to the homes of its 2.1 million subscribers once a week; after reviewing the previous week's exams, they drop off new ones. As for plain-vanilla cram schools, Jongro Academy is the leader, with 4,500 students who pay an average of $310 a month. Jongro posted profits of $2.2 million last year on revenues of $11 million.
Some 60% of Korea's 8 million pre-university students use some sort of cram service. And with 40% of Koreans logged on to the Net, industry execs think a big chunk of their business will soon be online. More than 100 educational sites have been set up in the past year, including those of major offline players. Chung Kum Jo, Daekyo's president in charge of developing new products, says Daekyo's online business--2% of an estimated $634 million in sales this year--will rise to 27% by 2004. Goldman Sachs expects similar growth. Baeoom.com is one of about a dozen new educational portals. With a range of educational offerings, the site hopes for sales of $18 million next year. "The Internet will allow these services to be delivered much more efficiently and cheaply," says Min Ji Hong, executive director in charge of Goldman's direct investment division in Seoul. "There's no doubt in our mind that the migration toward the Net will take place."
The trend has its critics. Cram schools, they say, reinforce Korea's long tradition of rote learning by helping students quickly memorize massive volumes of data and theories. "This is absolutely ridiculous," laments Park Dae Hyon's mother. "Little attention is given to originality and artistry, and many careers are ruined because of a single bad performance on the day of the exam."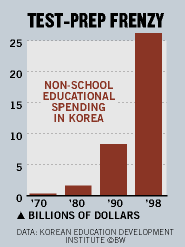 Seoul is listening. Beginning next year, it will deemphasize national exam grades so colleges assess students according to academic performance, not just test numbers. Korea's heavily regulated universities will get more discretionary power in admission procedures.
These changes are cosmetic, say scholars, parents, and business execs. To provide the brains Korea needs in the new era, they add, the system should be overhauled--or junked. It's a theme sounded elsewhere in Asia these days. But until Korea develops that new system, cramming will be the grim order of the day.
Before it's here, it's on the Bloomberg Terminal.
LEARN MORE