Renault Nissan: Dynamic Duo
The Renault-Nissan pairing pays off
Christine Tierney
Who would have guessed two years ago that DaimlerChrysler, the global car industry's dream team, would now be dogging it? Or that Renault and Nissan Motor Co., a dicey-looking duo when they teamed up last year, would look dynamic?
But here we are. On Sept. 27, DaimlerChrysler confirmed that Chrysler will report a third-quarter operating loss of $528 million. Next day, Carlos Ghosn, Nissan Motor's Renault-bred chief, prompted a 17% rally in Nissan's stock when he announced in Paris that his overhaul of the ailing Japanese auto maker was ahead of schedule. "The bottom line," says Noriaki Hirakata, a top auto analyst at Morgan Stanley Dean Witter in Tokyo, "is that Ghosn is delivering what he promised."
"LE COST KILLER." No arguing that. Since embarking on his radical restructuring last October, Ghosn has easily earned his nickname, "le cost killer." Three of the five assembly plants he plans to shutter by 2002 will be gone next March, and he's on track to take 21,000 names off Nissan's payroll. Procurement costs are coming down, too: Ghosn says they will drop 10% by next March--an improvement over his plan for an 8% cut.
U.S. sales are rising, meanwhile, and Ghosn already has begun to make Nissan work for its new parent. Analysts now say operating income for the year ending Mar. 31 could be as much as 80% higher than the $1 billion Nissan originally forecast. "Nissan's either on track or ahead of schedule at every level," says Gaetan Toulemonde, a Paris-based analyst with Deutsche Bank. "The debt's going down fast, they keep gaining U.S. market share, the synergies are being achieved, and they're about to launch an aggressive brand revival."
This is just the news that Louis Schweitzer, Renault's chairman and Ghosn's boss, has been waiting for. The soft-spoken Schweitzer conceded that he was betting the farm when he put $5.4 billion into a 37% holding in debt-wracked, floundering Nissan. If the deal worked, it would transform Renault into a global player with a presence in every major market. If it failed, both companies would be vulnerable. A year and a half later, Schweitzer and Ghosn have yet to win the bet, but they're cautiously optimistic. "It's working fairly well," Schweitzer says in his understated manner.
Now it's time to make the partnership work. Not everyone at Nissan is thrilled with Ghosn's bold stance and workaholic pace, but the shock treatment is part of Renault's overall strategy. "Our plan was to have common goals and management techniques but two cultures," Schweitzer says. "We're establishing common goals. And we're looking for a good balance between the traditional Japanese bottom-up and the traditional French top-down management techniques."
Renault is adopting Nissan's factory-management techniques. Nissan is learning to promote talent and make decisions quickly. And both companies are spending millions of dollars to teach French and Japanese managers English so that they can communicate. It doesn't come easily to either group--but it's coming. "We have to live with the difficulty," Schweitzer says.
So they will for some time to come. Nissan's financial condition has improved, but with few exciting new models, sales in its depressed home market keep sliding: Unit sales were off 8% in the half year to Sept. 30. That has been partly offset by a 15% gain in the U.S. in the first nine months of this year, thanks to hits such as the Xterra SUV and the Frontier Crew Cab pickup. But if Japan's economy fails to recover or the U.S. economy goes into a downturn, it could thwart the next crucial stage of Nissan's recovery--its ambitious product rollout.
Nissan is launching 22 new models worldwide over the next three years. The first one out, the mid-range Bluebird Sylphy sedan, is off to a promising start. Japanese customers ordered 8,500 Bluebirds in September, almost triple the forecast. Five models are due in the next year: three new vehicles and two replacements. It's planning 10 new models for the U.S. market, including a new Z sports car.
As for Renault, it too is rolling out a series of products. The French carmaker has just put out a revamped Twingo compact and introduced a Laguna sedan. Next year it's launching two upscale cars, the distinctive Avantime luxury coupe and the Vel Satis sedan, and will give its Clio compact a facelift. But analysts worry that Renault will still have an older-than-average range in Europe, particularly in its key small cars. While the company still enjoys a reputation for innovative design, the average age of its products in 2001 will be more than five years, compared with a European industry average of 4.4 years.
For both Renault and Nissan, the solution is speeding up model rollouts by using common platforms--the core framework of cars that includes the floorpan, drivetrain, and axles. Both manufacturers expect this technique to lower production and purchasing costs. It's another contrast with DaimlerChrysler. While the German-U.S. giant won't share platforms for fear of tainting the Mercedes-Benz brand, platform sharing is the raison d'etre of the Renault-Nissan alliance.
HUGE SAVINGS. Indeed, the two car manufacturers already are developing a platform that will serve as the base for the Nissan March, Cube, and Micra compacts--all due out in 2002--and for the third-generation Renault Clio, which is slated for 2003. In the planning stage is a platform for Renault's Megane and the Nissan Sunny, Tino, and Almera models.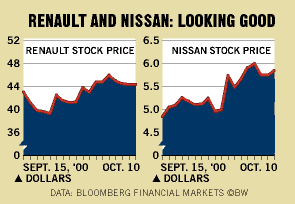 Schweitzer has great expectations for this strategy. He has just announced plans to reduce Renault's costs by $2.6 billion over three years, and he expects half the savings to come from lower procurement expenses. "We'll have common platforms and common engines with Nissan, which means we're giving suppliers increased volumes," Schweitzer says. And because Renault and Nissan will sharply reduce the overall number of platforms to 10 from 34, the individual-component orders will be even larger, offering suppliers greater economies of scale. Synergies between Renault and Nissan should account for about $390 million of the total savings.
Such numbers speak to the market. As Nissan prepares to release its first-half report at the end of October, parent Renault's shares are rising: They've climbed 29% since March, to $43.50 on Oct. 11. Shares in DaimlerChrysler, meanwhile, have plunged 31% for the same period, even after a recent spurt. Investors, it seems, are placing their bets as well.
Before it's here, it's on the Bloomberg Terminal.
LEARN MORE