business
Nothing Mellow At Yellowave
While accusations of fraud fly, the Net startup is hamstrung
Arlene Weintraub and Neal Sandler
Nothing Mellow At Yellowave
While accusations of fraud fly, the Net startup is hamstrung
Arlene Weintraub and Neal Sandler
For an obscure Internet startup, nothing helps the stock price more than having a famous person on your side. And Yellowave Corp., a year-old Los Angeles incubator, seemed to have struck paydirt back in July when it announced that 3Com Corp. Chief Executive Eric Benhamou had come aboard as chair of its advisory board. The news about Benhamou, well-known as one of the marketing wizards behind the Palm handheld computer, sent Yellowave shares soaring 118% to a high of $24 one week later.
But was Benhamou ever really as involved as the company's press release claimed? That's one of several issues in a bizarre Los Angeles lawsuit in which two of Yellowave's founders claim its largest potential investor fraudulently misrepresented his investments. Benhamou, who is not a party to the suit, contends he was never asked to take the committee chairmanship. As a result of the suit, a federal judge has issued an injunction that has crippled Yellowave's operations. Shares plummeted to $6.75 before trading was halted on Aug. 23.
Oddly, the brouhaha began with a beauty shop chain. Last summer, Los Angeles entrepreneurs Ron Oren and his wife, Laura Ballegeer, bought a controlling interest in publicly traded CutCo Industries, which had franchised a national chain of 146 hair salons. Seven months later, they renamed the company and sold off the salons for $3.6 million, which they intended to invest in Israeli tech startups.
CHILDHOOD FRIEND. On a trip to Israel to scout for investments, Oren met entrepreneur Prosper Abitbol. At the time he was CEO of Israel Digital Broadcasting Corp. (IDBC), a sat-ellite-based Internet service. Oren was impressed with the potential of four Abitbol-controlled companies, including an IDBC subsidiary, NewS@t, which had received a license to broadcast satellite TV. Oren and Ballegeer agreed to give Abitbol a 75% interest in Yellowave; Yellowave got ownership of his four companies in a deal contingent on Abitbol's producing various patents and licenses.
Abitbol had also proposed putting Benhamou, a childhood friend, on the Yellowave board of directors, Ballegeer says in an e-mail to BUSINESS WEEK. Abitbol concedes that he said Benhamou would be involved in a "general sense" but says "at no time did we promise that he would be chairman of the board."
As news of the impending deal and Benhamou's advisory role were circulated in press releases, Yellowave's stock rocketed from $7 on June 1 to a high of $24 on July 24. "Shareholders...approved the transaction primarily based on the involvement of Benhamou," Ballegeer says in her e-mail.
To what extent Benhamou was on board, however, is now in dispute. Oren and Benhamou were reunited in 1998 when the Israeli entrepreneur contacted Benhamou to get an informal review of IDBC's business plan. In return, Abitbol gave him 10% of IDBC shares and a seat on its board, according to a letter of agreement by the two men that Abitbol provided to BUSINESS WEEK. Benhamou says he never agreed to take the chairmanship. He only agreed to serve on Yellowave's advisory board, which never met. "I've been asked to give advice from time to time, but there was never anything structured," he says.
BROKEN PROMISES. Benhamou's role is but one of several issues Oren and Benhamou have with Abitbol. According to court filings by the pair, Abitbol failed to provide promised evidence of patents and licenses granted to some of the four companies Yellowave was buying. That made them worry that the companies didn't really exist.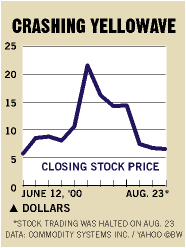 Abitbol, reached at his home in Israel, denies the charges. He says he originally portrayed all the companies as units of IDBC, not as independent and that he provided ample evidence of their validity. On Sept. 25, the court issued a preliminary injunction preventing Abitbol from controlling Yellowave while the trial continues on the fraud charges. He, in turn, has filed several oppositions to the injunction.
While the legal wrangling continues, Benhamou is left fuming. "Claims that I'm an affiliate, a director, or running a Yellowave company have no remote connection to the truth," he says. That alone is likely to kill any further investor interest in the incubator.