Lucent: "A Large Battleship With Gaping Holes"
In addition to plunging earnings, a brain drain is building
by
Lucent Technologies Inc. CEO Richard McGinn is going to have one tough time surviving after that company's latest fiasco. On Oct. 10, for the third time this year, he hastily summoned analysts to a conference call for a grim announcement: Earnings for the most recent quarter would be just 17 cents to 18 cents, far less than the 15% increase previously promised. He also announced that fourth-quarter and 2001 earnings would be below estimates. Lucent shares, which were already down 58% for the year, lost another third of their value, falling to $21.25 one day later. "It is clear there must be a major retooling of the Lucent business," admitted McGinn.
Increasingly, though, the question is whether he'll be the one to do it. Although McGinn later announced to some 400 managers via conference call that he will not step down, the pressure on him to do so is rising. "Few if any investors have any remaining confidence in Lucent's leadership," says analyst Paul Silverstein of investment company Roberston Stephens Inc.
SHALLOW POOL. Lucent has already hired executive recruiter Heidrick & Struggles to find a chief operating officer. But COOs are hard to hire. "Anyone who is qualified to be COO is likely to demand the CEO's job," says one person familiar with the matter.
One factor in McGinn's favor is that it sure won't be easy to find a new CEO. The talent pool of top telecom equipment executives is quite shallow. A flurry of startups has lured top young managers away from big companies such as Lucent, Nortel, and Cisco. And few of them would be willing to part with their stock options to run Lucent.
That's not Lucent's only management woe. Its problems and falling stock price have led to a massive brain drain. Headhunters say Silicon Valley is awash in Lucent resumes, many from directors and vice-presidents in the soon-to-be-spun-off optical business. "Lucent has a bull's-eye on its forehead right now," says Doug Griffith of Caywood Partners Ltd., which specializes in recruiting for optical startups. "People are running for the exits," despite retention bonus offers of up to $250,000, he says.
How did things get so bad? Lucent was late to market with a new generation of high-speed optical gear and switches for Internet-based networks. "They're making equipment for an archaic network," says Vinod Khosla, general partner at venture-capital powerhouse Kleiner Perkins. Lucent continues to play catch-up in that market. Sales of optical equipment for the fourth quarter are expected to shrink from third-quarter levels. And as the optical market grows 46%, to $23.6 billion this year, its share has stagnated at just 25%.
Lucent has tried in recent quarters to make up for its inferior technology by offering customers big discounts and cheap vendor financing. But even that strategy has blown up. Its exposure to some of the weakest carriers, such as ICG Communications Inc., forced the company to boost reserves against loans it made to sell equipment.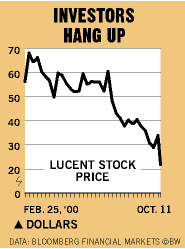 Nor is a quick turnaround in sight. In fact, McGinn admitted to analysts that Lucent is revamping corporate planning because it has done a poor job foreseeing changes in the industry. Lucent is like "a large battleship with gaping holes in its superstructure," Silverstein says. "It can't be turned quickly, and the holes can't be repaired overnight."
Some steps are under way. Lucent has new leadership at its optical unit, which has been divided into smaller teams. And Pat Russo, the veteran head of the service provider networks group, is being forced out. The question is if the bloodletting will eventually go up to the executive suite.
Before it's here, it's on the Bloomberg Terminal.
LEARN MORE