Japan: Steadier, But Still Wobbling
by
A more optimistic corporate sector and a rising index of leading indicators offer some evidence that Japan's recovery is firming up. But pessimism among small companies and weak household spending point to large pockets of weakness. Until all sectors participate, Japan's recovery will continue to look fragile, although the economy should grow 2% this year.
The August leading index jumped to 71.4% from 55.6% in July. It was the index' third consecutive month above 50%, a signal that the economy is growing (chart). In other good news, the Tankan Survey for the third quarter showed that confidence among large manufacturers rose for the second quarter in a row. That optimism, as well as a better outlook for profits, is feeding a 13.8% planned increase in capital spending for the year ending March, 2001. The mood among smaller businesses, however, continued to show more pessimism than optimism, although the gap is a bit narrower than in the second quarter.
Consumers are beginning to feel more upbeat about the economy, but they aren't boosting their purchases yet. Real household spending dropped 2.3% in August, the fourth consecutive monthly decline. Compared with a year ago, spending is down 4.1%, continuing a three-year downtrend.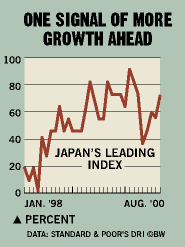 Part of the better household mood is the rise in jobs, thanks to government work programs. Japan's jobless rate in August fell to 4.6% from July's 4.7%. The rate had hit a record high of 4.9% in March. Pay gains, however, have been volatile. Wages grew from April to June, only to drop again in both July and August. To increase demand, the government is going ahead with a planned stimulus package later this year.
Certainly, policymakers must welcome the optimism among Japan's large corporations. However, keep in mind that large companies also turned upbeat in 1997 on the hopes for a sustainable Japanese recovery. But when consumers continued to cut back on their spending, the economy declined again in 1998. And business confidence tanked along with it.
Before it's here, it's on the Bloomberg Terminal.
LEARN MORE