Giving Viagra A Run For Its Money
by
Watch out, Pfizer. A new kid on the block called Cialis is out to grab a slice of the sexual-dysfunction business. But Cialis, the flagship product of biotech company ICOS (ICOS), is aiming not only for part of the male market but also for the yet-to-be-served female business. In a joint venture with Eli Lilly, Cialis is now undergoing Phase III clinical trials for treating male dysfunction. ICOS has also started Cialis in Phase II studies for female sexual dysfunction.
John McCamant, editor of the Medical Technology Stock Letter, expects ICOS to file a new drug application for Cialis by yearend. Annual sales for Cialis could reach $1 billion, he says. Shares of ICOS, now at 48, have been on the rise till lately. McCamant's 12-month target: 90.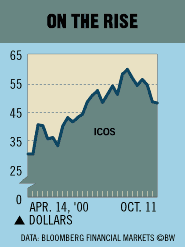 "More than 20 Phase I and II trials have been conducted to determine the safety and efficacy of Cialis in a broad range of patients," says Elise Wang, an analyst at PaineWebber. Multiple studies testing both daily and on-demand use of the drug, she says, showed Cialis to be effective in all 179 patients with mild to severe dysfunction. "Safety data indicate a more compelling profile than that for Pfizer's Viagra, with no evidence of side effects, such as color-vision or nasal effects, and less incidence of flushing or headache," says Wang. "Cialis may prove to be a highly competitive product to Pfizer's Viagra," she adds, and could be a huge earnings producer for ICOS.
Before it's here, it's on the Bloomberg Terminal.
LEARN MORE