Finding The Right Net Formula
Making money in cyberspace is trickier than anyone suspected
Jim Kerstetter
Barely three months ago, Priceline.com Inc. looked like a winner. With William Shatner, a.k.a. Star Trek's Captain Kirk, promoting Priceline's name-your-price concept and airline ticket sales seemingly strong, many on Wall Street were convinced that profits were just around the corner. Soon after, the company was trumpeting a major expansion into grocery and gasoline bidding, Priceline's WebHouse Club Inc., and sporting huge new investments by such savvy investors as Paul Allen and Saudi Prince Alwaleed Bin Talal.
But three months is a lifetime on the Internet. On Sept. 29, Priceline warned that its revenues wouldn't meet expectations amid weak sales of airline tickets--its bread-and-butter business. That drove shares down 46% and dashed hopes of turning a profit anytime soon. Then, a week later, its founder, Jay S. Walker, dropped another bomb when he shut down WebHouse, his gasoline and grocery business. Even though 100,000 new customers signed up every week, WebHouse was losing money subsidizing purchases because it couldn't line up discount supplies.
The double-whammy was a serious blow for Priceline--and by extension almost every other big dot-com. Not only has it triggered big doubts about Priceline's core business, it also raised questions about the company's ability to expand into broader markets.
Priceline is hardly alone. In recent weeks, a litany of problems have hit the bellwether dot-coms that many have seen as the blue chips of the emerging Internet economy. The difficulties have fueled a huge debate about the viability of the underlying business models that once seemed to promise sky-high growth and profits to match.
Indeed, on Sept. 22, once high-flying online grocer Webvan Group Inc. announced it will delay launching delivery services in several key regions, including Seattle and Washington D.C., by at least six months to conserve capital. And on Sept. 28, Healtheon/WebMD Corp., the big Atlanta medical-services site, said it will cut 1,100 jobs, resulting in an initial pretax charge of up to $45 million.
But all that was just prelude. On Oct. 4, an analyst report questioning whether online retailer Amazon.com Inc. can succeed with its huge assortment of new offerings sent the stock spiraling downward 23% over the following week. Then, even the once-invincible Yahoo! saw its shares plunge 21% on Oct. 11. Despite reporting its sixteenth consecutive quarterly profit, the company faces dramatically slowing growth and squeezed margins amid an expected downturn in ad spending. If Yahoo, by far the leader among advertising-driven content sites, is slowing, what about all the multitudes of lesser sites struggling to survive?
Whether in retailing, stock trading, or medicine, it turns out the Internet may not be bringing the radical change it once promised. "A lot of these Internet companies view the technology as their business, rather than having a business," says Jim Horty, president of Horty & Horty P.A., a forensic accounting firm in Wilmington, Del., that gauges valuations on startups. Or put another way: "Anyone who thinks the Internet is going to trump a physician, and all of their idiosyncrasies, hasn't been to the doctor lately," says James Kumpel, an analyst at Raymond James & Associates.
It's a simple truth that applies to countless other businesses and services. Which is why Internet outfits from e-tailing to publishing to the B2B e-marketplaces are hurriedly reinventing themselves, chucking their original plans in favor of something, anything, that might work. But one thing is clear: As a sense of desperation permeates the dot-com landscape, it's finally sinking in that making money on the Net will be trickier than anyone ever suspected.
And that means big trouble. Ever since the Net craze began, dot-coms have relied on outside capital and hyped valuations to feed their expansion plans. Now that the bubble has burst and venture capitalists have lost their enthusiasm, many dot-coms are stranded with little prospect of ever making it.
LACK OF CONTROL. Indeed, the big dot-com names are all confronting a range of real-world problems, everything from cash flow issues to grossly underestimating capital costs to lack of control over suppliers. And nowhere has this new reality hit harder than at Amazon.com. With free-flowing financing long gone, there have been questions since this spring as to whether Amazon will run through its $1 billion cash horde before 2002, when analysts expect the company to break even. Those questions were again raised in early October by Robertson, Stephens & Co. analyst Lauren Cooks Levitan. She concluded that, when online shopper order several products at one time, Amazon loses on average $2.91 per order. "Our results raise legitimate concerns about Amazon's long-term strategy," says Cooks Levitan.
As the fresh coat of paint peels off many a dot-com concept, other flaws are emerging as well. A huge problem for the likes of Priceline, for instance, is its lack of control over supply of the very products it sells. Never mind finding discount gasoline amid an oil crisis. The airlines have spent countless millions to tightly match supply and demand for seats. In a crowded market, that means fewer spare seats to sell.
More to the point, the airlines are about to make life even more difficult for Priceline with a competing name-your-price service of their own. That gives them even less incentive to supply Priceline. And given the spate of consumer complaints that resulted in a Connecticut Attorney General investigation, matching Priceline's level of service shouldn't be tough. "I do not think Priceline as it exists now can make it," says Henry Harteveldt, an analyst at Forrester Research Inc.
Other dot-coms are discovering the tough reality that their services are simply a lot less in demand now that their novelty has worn off. That's certainly been the case for online brokerages whose growth has slowed as the market has tanked. Moreover, while online trading is fine for the 4.5 million or so active traders who already have accounts, mainstream consumers don't much like the online-only model. They want live brokers and offices they can visit. That has delayed profit expectations at E*Trade Group Inc. as the company refocuses on building up its brick-and-mortar presence and promoting its banking business. "It's as though they started with the Internet and are working backwards," says Forrester Research analyst James Punishill.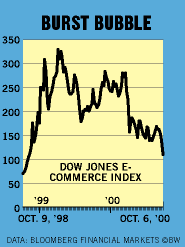 SCRAMBLING. Even as Net companies struggle to redefine themselves, traditional businesses that initially seemed left in the dot-com dust are rallying. Virtually every smart idea a dot-com entrepreneur has ever dreamed up has been duplicated by established concerns with deep pockets and staying power. "You had a bunch of companies running into this chasing quick money," says John Barbour, CEO of ToysRus.com. "But they didn't have a business model, they don't have a path to profitability and they don't have a compelling consumer benefit." Adds Gerry Storch, president of financial services and new business at Target Corp.: "The stupid era of the Internet is over. It's time to start doing things that make business sense."
For such retailers, the Internet is becoming just another tool, like catalogs and direct-mail promotions. But don't tell that to the gurus of the Net. They're too busy scrambling to figure out their next move before another bombshell hits.
Before it's here, it's on the Bloomberg Terminal.
LEARN MORE