Who will end up buying Hughes Electronics (GMH)? The bidding war should heat up soon: Potential suitors have just been sent a copy of the "book," or offering memo, that spells out the assets of this satellite maker and provider of satellite-TV, phone, and Internet services. News Corp. is the most ardent suitor, but some pros close to insiders at General Motors, which owns 32% of Hughes stock and 100% of its assets, say Rupert Murdoch's media company may not prevail. The reason: A strong new bidder could join the fray. A group that includes some Hughes execs, Kohlberg Kravis Roberts, and several foreign investors, is preparing to push a leveraged-buyout bid.
Others sent the book on Hughes, whose DirecTV satellite unit has 8.3 million subscribers, include Microsoft, General Electric, Walt Disney, Viacom, EchoStar Communications, and AT&T, whose CEO, Michael Armstrong, is a former Hughes CEO.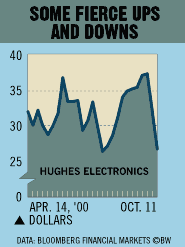 GM's stake in Hughes is valued at $15 billion, and the auto maker is said to be willing to take $16 billion for it. GM wants to get $6 billion in cash up front. The LBO faction, says a member, will raise the $6 billion through Citigroup. But the cost basis of GM's stake in Hughes is "extremely low," which creates the potential for a huge tax liability for GM, notes Ty Carmichael Jr. of Credit Suisse First Boston. So GM would prefer a deal that would allow for a tax-free divestiture.
Carmichael figures Hughes, now at 263/8, is worth 48 a share on fundamentals alone. But in a buyout, some pros say it could fetch 60 to 70. Hughes chief spokesman Richard Dore says GM and Hughes are "actively exploring all options," including the sale of all or some parts of the company.
Before it's here, it's on the Bloomberg Terminal.
LEARN MORE