A Political Nightmare: Not Enough Airtime
Too many campaigns are chasing too few ad slots
by
As Election 2000 gets closer, you can barely turn on the TV without being bombarded by commercials for candidates and special-interest groups. So it's no surprise that as spending records shatter, television broadcasters are reaping huge windfalls: Overall, some $665 million will be spent on political ads this election season, up from $499 million two years ago.
Since broadcasters have no legal obligation to accept ads from nonfederal candidates, the crunch has many stations jacking up rates and cherry-picking among special-interest groups waving money. It has gotten so bad that some pols are having a hard time getting their message on the airwaves. And that's raising concerns that local television stations may be exerting undue influence over the democratic process in pursuit of higher profits. In a speech in New York on Oct. 10, Federal Communications Commission Chairman William E. Kennard complained about the difficulties candidates are having in arranging airtime. "The idea that the financial interests of the broadcast industry would trump the public's interest in educated voting is sounding more absurd," he said.
TURNED DOWN. Case in point: Karen Friedman, a Democrat running for the general assembly from Pennsylvania's 61st District, in the suburbs of Philadelphia. Friedman wants to buy airtime--and has the money. But local TV stations won't run her ads. Station managers claim they're already saturated with political commercials.
Friedman, a former TV reporter who now runs a media consulting company, smells a rat. Rather than airwave clutter, "this is all about money," she fumes. Friedman says she is willing to pay the going rate for typical commercial advertisers--about $3,000 for a 30-second spot. But she suspects that TV stations are holding out in anticipation of charging higher rates to cash-rich national political parties and the special-interest groups that increasingly dominate campaign advertising. "They can charge the moon and get it," says David Keating, executive director of the Club for Growth, which backs conservative candidates. Counters Jim Gallagher, director of sales at KYW-TV, a CBS affiliate in Philadelphia: "Candidates want more [time] than we can accommodate."
Friedman isn't the only pol in this bind. Pennsylvania Attorney General D. Michael Fisher, who is being challenged by Democrat Jim Eisenhower, hasn't been able to run his ads when or as often as he would like. Stations "want to limit their political commercials, which makes it difficult to get our message out," says Kent Gates, Fisher's campaign manager.
Even some federal pols, who by law can't be denied airtime as long as they can pay for it, say they're being relegated to unattractive time slots. "They haven't said: `We won't take your money.' They've said when you can spend it," says John Brabender, a GOP media consultant whose clients include Senator Rick Santorum (R-Pa.). Spots during the key 11 p.m. news hour, for example, are almost impossible to get. "We're worried about what's going to happen when we get closer to the elections," Brabender says.
GOLD RUSH. The airtime crunch is so severe that some well-heeled interest groups have seen their plans stymied. On Oct. 3, Planned Parenthood launched a $7 million ad campaign to convince swing voters, especially women, that Republican George W. Bush is a threat to abortion rights. But the pro-choice lobby says it didn't buy ads in Spokane, Wash., because the rates were unreasonable. "There were some TV markets we abandoned entirely because we were being gouged," says Nina Miller, director of Planned Parenthood's political action committee. Spokane stations wanted to charge three times what they were billing other advertisers.
Not surprisingly, many TV affiliates are rolling in clover. "We're having the best year we've had in forever," boasts KYW's Gallagher. KYW will take in at least $12 million this year from political ads. And Gallagher estimates that the entire Philadelphia television market will bring in more than $45 million in election-based revenue, up from $16 million in 1996. KYW is charging special-interest groups $4,500 to $6,500 for a 30-second spot that would cost a nonpolitical advertiser $2,500 to $3,000. And because KYW is trailing rival NBC and CBS affiliates in ratings for late local news, Gallagher suspects his competitors are charging much more.
Indeed, more than ever, broadcasters are relying on fees for campaign ads to fill their coffers. From 1992 to 1999, political spots increased from 3.2% to 8.2% of total station billings. Bear, Stearns & Co. analyst Victor B. Miller IV says the growth is even more pronounced at affiliates of ABC (DIS), CBS (VIA), and NBC (GE), which take in 80% of all political ad spending. Miller estimates that political spots might account for as much as 15% of network affiliates' billings--more than they'll take in from the fast-food industry this year (chart).
Given the shortage of airtime, that's a worrisome change, say watchdog groups such as the Alliance for Better Campaigns. With polls showing that 65% of Americans get their political information from TV, experts fret that only the wealthiest groups and candidates are getting their messages across. That's why the Alliance wants broadcasters to devote more news time to political coverage and give free airtime to candidates.
POLS OR PLAYOFFS? Some media execs are listening. In September, Hearst-Argyle Television Inc. (HTV), which owns 26 stations in 20 states, said its outlets would devote at least five minutes of news airtime a night to election coverage. CBS followed suit with a similar pledge. However, NBC, in a decision that was widely criticized, is heading in another direction. The network gave its affiliates the option of running the Presidential debate on Oct. 3 or airing a baseball playoff game. Many opted for the latter.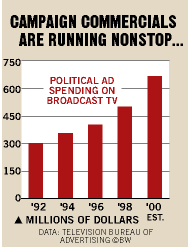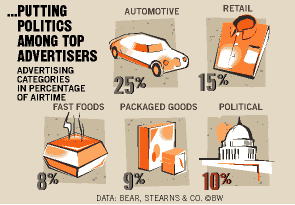 Because the broadcast industry is one of the most powerful lobbies in Washington, don't look for reforms anytime soon. The 50 largest media corporations spent more than $31 million on lobbyists last year, up 26% from 1998, according to the Center for Public Integrity, a political watchdog. That's more than the amount spent by unions and the securities industry.
So with the airwaves getting ever more cluttered, second-tier candidates such as Karen Friedman are being left to fend for themselves. While voters in her district watch issue ads bought by everyone from the Sierra Club to the drug industry, she's resorting to shoe leather: Friedman is spending three hours a night knocking on doors in her district. Who knows? It might even work.
Before it's here, it's on the Bloomberg Terminal.
LEARN MORE