economics
A Gigantic Lake Under The Sands...Won't Do Much For The South
Becky Gaylord
A Gigantic Lake Under The Sands...Won't Do Much For The South
Becky Gaylord
Spiky spinifex sprouts in clumps amid a scattering of trees. Low hills stretch for kilometers, covered in red sand dunes. This lonely spot looks much like the rest of the massive Great Victoria desert in Western Australia, more than a day's drive from a city of any size--if there were a road. But buried under the scrub and sand lies a massive lake whose surface would span half of California. Called the Officer Basin, its water flows at least 500 meters down and could be several times that deep. "There are vast quantities of water out there," says Jeff Camkin, manager at the Water & Rivers Commission in Perth. "The real big question is getting it out of the ground."
Soon, someone may try--because Australia needs that water. Despite being surrounded by oceans, the country is parched, particularly out west. And recently, rainfall has slipped even more. Runoff near Perth is 40% below the long-term average. Even though the west pants for steady supplies of fresh water, enormous aquifers, like the Officer Basin, have been considered too remote and costly to tap as a source for cities or businesses. But Australian mining company Anaconda Nickel Ltd., which has operations near the edge of the basin, is now carrying out extensive tests. Early analysis shows that the water is suitable for industrial use, such as nickel processing at Anaconda's Murrin mine. Anaconda's current supply, from bores into ancient river beds that tap water, may not suffice for its expansion plans.
The basin's promise isn't golden. Samples show that, unless treated, the water is too salty for residential use. The sedimentary layers trapping the water predate the dinosaurs, and the water may, too, if the aquifer is sluggish. Anaconda is investigating whether the basin can replenish quickly.
Already, Anaconda has plans for a pipeline from the basin to its projects and potentially beyond to small mining towns within several hundred kilometers. The largest one, Kalgoorlie, siphons water from Perth. Building a pipeline from the basin to the mines and on to Kalgoorlie, which could relieve the pressure on Perth, would be "not extremely difficult," says Bronwyn Barnes, public relations manager at Anaconda, who estimates the cost at $135 million. The state government is encouraging Anaconda's analysis but wants more data before making decisions on the pipeline--or even the water's use.
STRIP SALT. Developing a pipeline to Anaconda's mines and through a few small towns is one thing. Treating the basin's water for residential use and scooting it along 1,000 kilometers to Perth would be another. Right now, it would cost less to strip salt from sea water than to draw supplies from the desert for the coast. It's not that Perth couldn't use the water, but, as Camkin says, "it's a question of economics."
At Kingscote Golf Club on Kangaroo Island in South Australia, players don't just put the flag back and walk to the next hole after sinking their putts. They grab a heavy rake and get busy. Here, the "greens" are actually black circles of tarry sand called scrapes. The balls slog through the stuff, but at least the upkeep requires no water.
The scrapes, common in Australia's dry Southwest, are just one way Kangaroo Island deals with its water problems. Tourism is the most important industry, but 90% of the island has no steady source of water. A desalinization plant built in 1999 and some dams are providing islanders more control of their water use, says David Furniss, CEO of the Kangaroo Island Development Board. Even desalinization won't provide water for commercial use--it's too expensive. The water problem on Kangaroo, a ferry ride from Adelaide, stems more from a lack of infrastructure than a lack of rain, according to Furniss. "Other than what gets dammed," he says, it "all runs to the sea."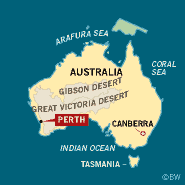 Industrial development, like the plant, requires careful balancing for the island, which guards its reputation for being environmentally aware. It lures tourists with brochures packed with koalas, kangaroos, sea lions, and 250 species of birds. Native birds and animals, of course, adjusted to the sporadic water supply long ago. Facing the pinch of scarce resources and infrastructure, leaders hope to partner with international investors who target environmentally sensitive projects and look for innovative solutions, Furniss says. In any case, the scrapes are probably here to stay.