deals
Out To Snare Delta?
Some say a buyout group is eyeing Delta Air Lines
By
Out To Snare Delta?
Some say a buyout group is eyeing Delta Air Lines
By
Airline stocks have been losing altitude fast, partly because of skyrocketing oil prices and fears of a lumbering economy. No wonder No. 3 Delta Air Lines (DAL) is trading close to its 52-week low--at 45, down from 58 11/16 in mid-May. But some pros have been buying in recently, betting that the airline will take off soon. The reason: takeover talk.
Industry insiders say that a major buyout group and two ex-airline execs are preparing to make a cash bid of $7.5 billion, or $61 a share, for Delta. These sources say the buyout group has been negotiating with a couple of banks for financing. Although that figure is a hefty premium over the current price, Delta is still incredibly cheap.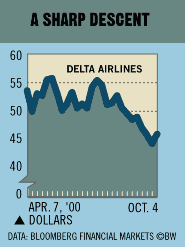 Analyst Susan Donofrio of Deutsche Bank Alex. Brown, who has a "strong buy" rating on the stock based on fundamentals alone, sees the stock rising to 83 in a year. At its current price, the stock is trading at less than twice Delta's earnings (before interest, taxes, depreciation, and amortization) of $2.9 billion, or $23 a share which, some analysts say, could easily service any acquisition debt. Delta's balance sheet carries $2.5 billion, or $20 a share, in cash, securities, and noncore investments. Based on estimated earnings of $8 a share in the year ending June 30, 2001, the stock is trading at price-earnings ratio of just 5.3. And based on a proposed bid of 61 a share, the deal would translate into a p-e of 7.5.
Delta Chairman and CEO Leo Mullin told analysts recently that traffic has been strong and the airline has continued to raise fares. And much of the airline's fuel bill is hedged at $18 a barrel through June, 2001. Delta didn't return calls.