Western Banks To Russia: All Is Forgiven
They were burned by the 1998 debt default, but they're back
Catherine Belton
To hear Western investment bankers talk about Russian debt today, you'd never guess that barely two years ago most fled Moscow after a bad mauling. Russia had defaulted on domestic debt, devalued the ruble, and frozen payments on some Soviet-era commercial debt. The price of a 30-year Eurobond issued just before the crisis plunged to 15 cents on the dollar, and the markets dried up. The U.S. and European banks, which lost some $10 billion to the debt default alone, vowed never to go near Russia again.
Now those same banks are hailing the former pariah's first step toward a return to international bond markets in the form of a massive issue of restructured commercial debt. And they hope for a new Eurobond issue next year.
What's behind this case of collective amnesia? Russia was the best-performing fixed-income market in the world this year and last, as measured by J.P. Morgan's Emerging Markets Benchmark Index. Russia's debt bazaar has clearly bounced back, along with the Russian economy.
Luck has helped Russia's outlook. Oil prices have surged, while the ruble's devaluation has fed an export-driven rebound in industrial production. Thus, foreign reserves have almost doubled, to $24 billion. Russia's economy is expected to grow--yes, grow--by about 5.5% this year. Investors have been heartened by the political stability under President Vladimir V. Putin. Prime Minister Mikhail Kasyanov, a former Finance Minister, gets high marks, too. Fiscal policy has tightened. "The new administration is eager for Russia to be perceived as worthy of G-8 status," says Marcel Cassard, Deutsche Bank's London-based chief economist for the region.
There are now several ways for outsiders to play the Russian boomlet. Moscow has just restructured some $32 billion in Soviet-era commercial debt with the London Club of creditor banks. The banks wrote off $10.6 billion, and Russia issued two new tranches--an $18.2 billion 30-year issue and a $2.8 billion 10-year issue--for the balance. In late August, ratings agencies boosted Russia's status for the first time since before the crisis, and now Moody's is considering doing so again. Restructuring $42 billion of Soviet-era debt with the Paris Club of sovereign creditors would also improve the outlook.
Still, the country's fragile recovery could come tumbling down. After all, Russia labors under $155 billion of foreign debt. Crunch time could come in 2003, when payments rise to $18 billion from $10.2 billion this year. The big question is how Russia will fare when oil prices fall, as they inevitably will. "Oil is 75% of the story in Russia," says Deutsche Bank's Cassard. "If the oil outlook is benign, with a price in the $20s, [bond investors] will make money." At $10 a barrel, the picture turns much grimmer. Even Kasyanov urges caution. "Global economic growth is forecast to slow in the next year, and this will be reflected in a decrease of exports from Russia," he recently told lawmakers.
IRRESISTIBLE ANIMAL. Still, some investors find Russia an irresistible gamble. "Russia is an animal that generates returns as far as the eye can see," says Arnab Das, an emerging-market debt strategist at J.P. Morgan in London. "But high volatility comes hand in hand with that." The 30-year Eurobond issued as part of the London Club restructuring is now trading at about 38% of face value for a yield of 17%, a spread of 1,119 basis points over benchmark U.S. Treasury bonds.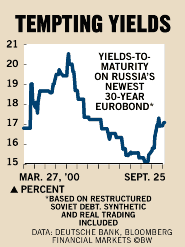 But investors like its liquidity: "There's certainly a lot of upside to that bond," says Eric Kraus, an economist at NIKoil, an investment bank. If it behaves like Russia's Eurobonds due in 2001 and 2003, holders are in for a lucrative ride. The 2001 bond traded at 30 cents on the dollar of nominal value in October, 1998. Now it's at 96.75 cents. The 2003 bond has had a similar ride up.
If yields remain much over 12% for short-term issues, Russia may shy at the expense and not issue new bonds. But Western banks think the Russians needs to return to the debt markets. "It makes sense," says Philip Poole, head of emerging markets at ING Barings in London. "Once [Russia] re-accessed the markets, its ability to manage the rest of its obligation would significantly improve." And as August, 1998, recedes into the past, investors will be waiting.
Before it's here, it's on the Bloomberg Terminal.
LEARN MORE