The Squabble Over Southwest Gas
by
In the market's current turmoil, those once unglamorous utilities are looking more inviting. The Dow Jones utility index is up 35% this year, while other broad indexes are gasping for air. Market maven Mario Gabelli, a big bull on utilities, thinks one company that could be a home run is Southwest Gas (SWX), which provides natural gas to 1.3 million customers in Arizona, California, and Nevada.
"Not only is SWX in the right business but it is also a takeover play that's worth much more than its current price," says Gabelli.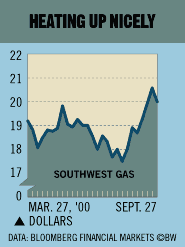 The Gabelli mutual funds have a 10% stake in SWX. Last year, Tulsa's ONEOK, an integrated energy company, had agreed to buy SWX at a sweetened bid of 32 a share. The offer prompted another gas distributor, Southern Union, to put up a hostile bid of 33. But SWX opted to accept ONEOK's lower offer. Southern Union sued both SWX and ONEOK, which then withdrew its bid.
"The company is stuck in a legal quagmire, and the board needs to act swiftly to enhance shareholder value by selling the company," says Gabelli. He expects another suitor will emerge. "Somebody has to come in and put some sense to what's happening," adds Gabelli, who thinks SWX could be worth nearly twice what it's selling for. The stock is at 20 a share.
Before it's here, it's on the Bloomberg Terminal.
LEARN MORE