The Party May Be Over For Carmakers
Oil prices, the euro's woes, and inflation could crunch sales
By
Don't tell Europe's car dealers and auto makers that the Continent is headed for crisis. As recovery has taken hold in countries big and small, consumers have been snapping up autos at a furious pace, enough to match last year's record of 15 million cars sold. Ford Jaguars, Volkswagen Polos, and Renault Meganes have been jumping off the lots. Even the euro's weakness has boosted U.S.-bound exports for Volkswagen and BMW.
Yet as car executives descend on Paris for the Continent's largest auto show, the first stirrings of anxiety about the future of the European auto sector are evident. The combined impact of high oil prices, shaken confidence, inflationary stirrings, and a weak euro finally seem ready to hit the carmakers. The result could be a much shorter boom in auto sales on the Continent than anyone was anticipating even a month ago.
Some telltale signs are already there. The car market in Germany, the biggest in Europe, is down 11% so far this year, partly due to a glut of used cars. More ominous, there's a fear that consumers are beginning to read the headlines on crashing euros and soaring oil with a little more attention. "If oil prices remain at $35 or more, and the euro remains weak--in the 90 cents range--then there will be an impact on the car market," says auto analyst Nigel Griffiths at Standard & Poor's DRI. "If this scenario unfolds, by 2002 we could be looking at sales roughly 6% below current levels." Adds Gaetan Toulemonde, a Paris-based analyst at Deutsche Bank: "If we have a slowdown, it's going to hurt their earnings massively."
Auto makers won't initially take a big direct hit from higher oil prices and interest rates: Energy prices represent 1% or 2% of their total costs. And with the exception of Fiat, Europe's auto makers aren't carrying heavy debt loads. But their suppliers aren't so lucky. Tiremaker Michelin reported first-half profits down 27%, after the cost of petroleum-based raw materials such as synthetic rubber soared 15% this year. French parts maker Valeo is starting to pass higher costs on to carmakers.
As expenses rise, profits will slide. Purchasing accounts for about 60% of auto makers' costs. Even in the best of times, the industry's profitability has been disappointing to investors. Toulemonde says 25 of the 57 automotive stocks they watch have hit new lows in the past year.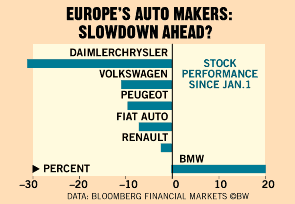 A full-fledged downturn would mean more trouble for Ford Motor Co. and General Motors Corp. They've been losing share in Europe to domestic producers like Germany's Volkswagen and PSA Peugeot Citroen of France. Ford's European car sales are down 10% so far this year, and GM's are 5.6% lower. To reverse the trend, Ford is introducing its new Mondeo at the Paris car show, and GM Opel is launching a new Corsa.
Of course, some models will weather rough times better than others. The hot sellers of 2000--Peugeot's 206 compact, the Citroen Xsara Picasso minivan, Volkswagen's downscale Skoda-brand cars, and Ford's tony Jaguar--have some momentum. But another record year in 2001? Don't count on it.
Before it's here, it's on the Bloomberg Terminal.
LEARN MORE