The Greenback Looks Like Good Medicine
Ditching the sucre has turned around Ecuador's economy
Samantha Newport
For Julio Litardo, a 40-year-old banana trader from Ecuador's coast, dollarization was a painful but necessary step. "Everybody knew it was the right way to go," he says. When converted from sucres to dollars at the fixed exchange rate of 25,000 to 1, the money Litardo makes from selling bananas doesn't add up to much. But at least now inflation isn't burning a hole in his pocket. "In spite of all the traumas, it's working out okay," he says.
In fact, dollarization has already worked wonders for Ecuador. This nation of 12.6 million was on the verge of economic collapse when President Jamil Mahuad announced in January that he was pulling the sucre out of circulation and replacing it with the dollar. Ten days later Mahuad was ousted by an army-backed coup, but his successor, Gustavo Noboa, pressed on with the plan. The last phase of dollarization was completed without incident on Sept. 9.
CONVERTS. Thanks to the switch, currency depreciation is now a thing of the past--a welcome development considering the sucre's 60% slide against the dollar in 1999. The stability provided by the greenback has caused monthly inflation to plunge from 14.3% in January to 1.4% in August. Gross domestic product will even grow some this year, after shrinking by a record 7.3% in 1999.
The turnaround has made converts of the many Ecuadoreans who initially resisted dollarization. Polls show that 55% of the population in Quito believes that the greenback is helping the economy, up from 27% in January. Meanwhile, dollarization's hard-line opponents, including militant labor unions and Ecuador's indigenous confederation, have failed to muster popular support for a return to the sucre.
Companies certainly have embraced the dollar. Business confidence has risen more than 50% since January, notes Paulina Batallas of Deloitte & Touche in Quito. "You can see that sales are increasing," she says. "Companies are taking on more personnel."
Foreign direct investment is also on the rise. Inflows, mostly into the oil sector, totaled $200 million in the first quarter of 2000, a 13% increase year on year. Passage of a new "modernization" law in August means that foreign companies will soon be lining up to take part in the privatization of Ecuador's two telephone companies as well as electric utilities.
U.S. investors will also foot the bill for construction of a $575 million pipeline to ferry heavy crude from fields in Ecuador's interior to the coast. Williams Companies Inc. is competing against a consortium that includes Occidental Petroleum Corp. and Kerr-McGee Corp. for the contract, which is due to be awarded this month. When completed in 2001, the pipeline will allow Ecuador to boost oil production from 400,000 barrels per day to over 700,000.
Dollarization has been fruitful partly because oil prices have tripled over the course of the year. Soaring revenues from crude exports--they rose 138% year on year in the first five months of 2000--should fuel GDP growth of between 1% and 1.5% this year.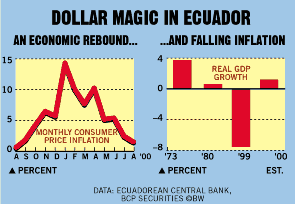 Yet with the dollar as its currency, Ecuador is more vulnerable than ever to falling oil prices. Since it no longer has authority to print money, the government is relying heavily on the commodity for a steady supply of dollars (oil's share of total exports exceeded 45% in the first five months of this year). If crude prices fell sharply, the money supply would be squeezed, as would public finances. "We'd be in big trouble if we had an oil crisis," says Rodrigo Lopez, a director at the Alliance for Business Consulting in Quito.
But Ecuador does have a financial cushion. In April, the government signed a deal with the International Monetary Fund that will release a total of $2 billion in multilateral credits over three years. In exchange, Noboa has agreed to proceed with structural reforms including privatization and an overhaul of the tax and labor codes. "If you compare this country to Peru, Bolivia, Argentina, or Chile, you can look at almost every sector of the economy and say: Ecuador is still years behind," says one foreign aid official. Dollarization at least is a start.
Before it's here, it's on the Bloomberg Terminal.
LEARN MORE