Stubborn As They Wanna Be
Pigheadedness. Defiance. Determination. Dress up those traits as "adversity quotient," or "AQ," assign them numerical values, and you might find you've got the makings of a successful entrepreneur. Gideon Markman, associate professor at Rensselaer Polytechnic Institute's Lally School of Management & Technology, measured the AQ of 203 patent holders. High-AQ patent holders earned more than the low-AQ crowd and were more likely to start businesses based on their patents.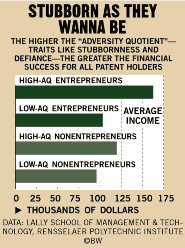 Before it's here, it's on the Bloomberg Terminal.
LEARN MORE