business
Sinking Dollar Down Under
Investors see the country as an Old Economy play
Becky Gaylord
Jaclyn Katz didn't expect to take home any medals from the Sydney Summer Olympic Games. The Bozeman (Mont.) resident is just a spectator. But she scored anyway--at the shopping mall. With the Australian dollar at record lows, she splurged on souvenirs and upgraded to an ocean-view hotel room at a resort.
Australia's Olympic performance has been stellar, but its currency can't cut it. The Aussie dollar has dropped 17% this year, to about 55 cents U.S.--losing more than 6% since June, when the Olympic torch was flown in. The U.S. economy's strength has stung other currencies. But absent the global support that just aided the euro, Australia's dollar has slid more than most.
DOT-COMS SCARCE. To currency traders and economists, the Aussie dollar has always been one to watch. Since the country is a big commodities exporter--wool, nickel, gold--its currency is supposed to strengthen when global inflation picks up and commodity prices climb. By that traditional perspective, the Aussie's poor performance would indicate that commodity-driven inflation is not a problem, despite the fears over oil.
But recent developments make the picture a little muddier. For one thing, despite the general downturn in non-oil commodities, some of Australia's commodities have enjoyed some modest increases in price. Yet the Aussie dollar continues its slide.
What gives? After all, "The economy hasn't changed overnight," says Kelly Tonkin, an economist at Lehman Brothers in London. But markets care more about capital flows than commodity plays these days--when the big money goes for mergers and other deals. In that context, circumstances don't favor the Aussie dollar. It has no big companies any U.S. behemoth wants to acquire, nor huge markets to attract U.S. dollars in the multi-billions. And though Australia's Net penetration rate is high, info-tech equipment amounts to less than 2% of total output. Dot-coms are scarce.
So Aussies can forget about generating a New Economy buzz. With a home market of only 20 million, Aussie high-tech stars often move to the U.S. to grow. Internet-search technology highflier LookSmart listed in Australia seven months after its August 1999 Nasdaq IPO.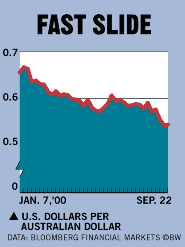 Even Aussie bonds don't provide the thrill they used to. With inflation tame, the overnight cash rate--a tempting 17.5% in 1990--is now below the U.S. federal-funds rate. "We're not the sexy bet we once were," says Greg McKenna, a National Australia Bank market strategist. A little inflation pickup is driving rates higher, but not enough to lure investors away from the U.S.
Prime Minister John Howard recently complained that the currency does not reflect Australia's strong fundamentals. Fair enough. But that's not how the investing world sees things down under. So the Aussie dollar may drop to 50 cents U.S. Investors won't rush back till the greenback wanes--long after the closing ceremonies.
Before it's here, it's on the Bloomberg Terminal.
LEARN MORE