Oil Prices May Hurt Britain, Too
by
Although Britain is an oil-producing country, the jump in oil prices is not considered favorable for the economy. Higher fuel costs are cutting sharply into consumer budgets. As a result, oil protests erupted in September. And Bank of England Governor Eddie George has said that higher oil costs have not fed through to other prices, but that the BOE "would be extremely concerned if oil prices were to rise substantially."
Even before the oil spike, the BOE was trying to slow the economy to head off building price pressures, with total consumer prices already up 3% in the year ended in August, compared with just 1.1% a year ago. But past interest-rate hikes are not yet taking hold. Second-quarter real gross domestic product grew a revised 3.2% from a year ago, faster than the 2.6% rise for all of 1999. The jump in oil prices and the protests will likely slow third-quarter GDP growth, but at the cost of rising inflation.
Growth also is being held back by the trade gap. Thanks to record imports, the trade deficit widened to a record 3 billion ($4.4 billion) in July, from 2.4 billion in June (chart).
One major reason for the flood of imports is sterling's 13% increase against the euro since early 1999. Sterling's strength has made euro zone goods much cheaper for the British to buy.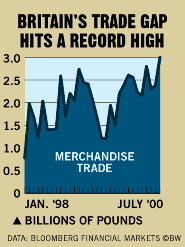 The recent intervention to lift the euro has put the government of Prime Minister Tony Blair on the spot. On Sept. 24, Blair said that further intervention was not anticipated--a view counter to the thinking of many economists and investors. So on the 25th, the Treasury said that future interventions simply would not be pre-announced.
In addition, the bailout of the euro is seen as a step to decouple sterling from the euro. A few months ago, Britain's entry into the European Monetary Union looked to be a major issue of the next election. But now, some economists think the next election may wait until 2002, leaving the EMU issue until 2004. In the meantime, sterling will stay more closely linked to the U.S. dollar.
Before it's here, it's on the Bloomberg Terminal.
LEARN MORE