business
Hercules Unleashed?
By
The performance of Hercules (HPC) has not exactly been Herculean. The stock is down 58% this year, to 12 a share. Earnings shortfalls have plagued this specialty-chemical company. It has performed "worse than the overall industry," laments Richard O'Reilly, an analyst at Standard & Poor's. And David Begleiter of Credit Suisse First Boston says the "lack of positive earnings momentum" is worrisome. But he thinks the low price doesn't reflect the "substantial intrinsic value of Hercules' franchise businesses."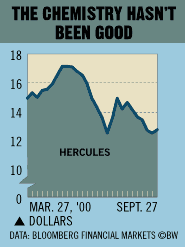 Enter Samuel Heyman, known on the Street as a savvy buyout investor, who has been snapping up Hercules shares, paying as much as 16 a share. Heyman has accumulated 10 million shares, for a 10% stake. "You can bet Heyman will make a bid for Hercules," says a money manager who tracks Heyman's takeover plays. He says Heyman, CEO of International Specialty Products, a Big Board-listed chemical maker, is attracted by Hercules' assets, which this pro values at 25 a share. In a 13D filing with the Securities & Exchange Commission, Heyman raised "the possibility of a business combination" with Hercules. In response, Hercules set up a plan to prevent anyone from buying more than 10% without board approval.
Heyman's most recent target was Dexter, another chemical outfit in which he acquired a 9.9% stake in 1999. Dexter also put up a poison pill. Heyman countered with a buyout offer, driving Dexter's stock up from 33 to 62. Rebuffing Heyman, Dexter sold out to Invitrogen.
Others on the Street also expect Heyman to go after Hercules. Gil Yang of Salomon Smith Barney raised his rating on Hercules to a buy from neutral, based on his expectation that it will be acquired next year, at a value of 28 a share.
Before it's here, it's on the Bloomberg Terminal.
LEARN MORE