Consolidation in the data-storage business is moving at a frenzied pace. In March, Veritas Software agreed to buy Seagate Technology, a leading provider of mass-storage products, for $20 billion. Last week, Sun Microsystems offered $2.1 billion, or 30 times revenues, for Cobalt Networks, a maker of low-end storage server appliances. Who's next? Industry sources say a major computer data-storage company is preparing to bid $2.3 billion, or 20 a share, for Maxtor (MXTR), a maker of network attached storage (NAS) devices and hard-disk drives. It is currently trading at 7 15/16 a share.
Part of Maxtor's appeal, say the sources, is its MaxAttach NAS product, which offers file serving and data storage that can be installed in less than 10 minutes--with no network downtime. It is compatible with both the Windows and Linux/Unix systems.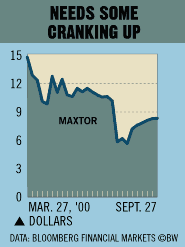 IBM, EMC, and Network Appliance are "grappling for leadership in the data-storage space," says Vince Carino, president of Brookhaven Capital Management. Maxtor is tiny, with revenues of $2.6 billion and a market cap of $894 million. But it produces 24 million low- and mid-range storage devices yearly, notes Carino. Network Appliance, on the other hand, with revenues of $1 billion and a market cap of $40 billion, makes less than 10,000 high-end units in a year.
Analyst John C. Dean of Merrill Lynch expects Maxtor to earn 18 cents a share in 2000 and 50 cents in 2001, compared with a loss in 1999.
Before it's here, it's on the Bloomberg Terminal.
LEARN MORE