Fleetwood: Not A Happy Camper Company
It's still a force in RVs and mobile homes, but its fortunes have been barreling south
Christopher Palmeri
Take a quick glance at the financials of Fleetwood Enterprises Inc. (FLE), and it looks like the nation's largest maker of recreational vehicles and second-largest builder of trailer-park housing has been driving full speed in the wrong direction. Despite a booming economy and an aging populace, Fleetwood recently reported its first quarterly loss in 20 years, a negative $31 million versus a $26 million profit in the year-earlier quarter. Fleetwood's stock now trades at just $12 a share, a quarter of the price it fetched two years ago. And more bad news may be on the way. Merrill Lynch & Co. analyst Robert P. Curran expects the company's earnings to plummet from $83 million in 1999 to $6.5 million this year, on sales of around $3 billion.
What went wrong? What didn't is more like it. Fleetwood's sales and profits are split roughly equally between recreational vehicles and mobile homes. The saga starts with Wall Street fueling a trailer park bubble in the mid-1990s. Management, trying to keep pace with more aggressive rivals, went deeply into debt in order to finance a strategic shift into the mobile-home retailing business. But that doesn't get at the soap-opera-like dimensions of the Fleetwood story. A bitter division between management and the company founder led to a boardroom coup--and the taking on of even more debt to buy him out.
Perhaps distracted by all this, Fleetwood Chairman and Chief Executive Glenn F. Kummer and President and Chief Operating Officer Nelson W. Potter seem to have taken their eye off of the company's other core business, RVs. Fleetwood failed to keep up with new features and advances offered by the competition, and business plunged. "I wouldn't do anything differently today," says Potter. "The markets turned on us, but in the end our strategy will be vindicated and it will make for a stronger company going forward."
BOOM TO BUST. To a large degree, Fleetwood, based in Riverside, Calif., is suffering a hangover from the tremendous run the manufactured housing industry had in the last decade. Ten years ago, the mobile-home business was in the dumps. At the time, there were too many apartments and not enough savings and loans willing to lend to trailer-park customers. But gradually, new subprime lenders like Green Tree Financial Corp. began to emerge. Then, just as the apartment glut began to work itself off, manufactured-housing makers began introducing new double- and triple-wide designs that appealed to customers who wanted the spaciousness of a traditional home at a much lower price. Sales of manufactured homes tripled in the 1990s, to around $16 billion last year.
At the same time, a new strategic shift swept the business that would spell trouble for Fleetwood. Competitors such as Champion Enterprises Inc. (CHB), of Auburn Hills, Mich., started buying up mobile-home retailers, including many of Fleetwood's top producers, in a bid to capture both the retail and wholesale mark-ups. By early 1998, Fleetwood says, retailers representing one-quarter ofits business had been bought by the competition.
DISSENTION. Kummer and Potter, both Fleetwood veterans, say they had no choice but to get Fleetwood into the mobile-home retailing business, too. They spent some $350 million in cash and stock buying up retail outlets. But company founder John Crean, now 75, who still held a 10% stake in Fleetwood, even though he had ceded management control, disagreed with the strategy. He argued that the move would anger Fleetwood's remaining independent distributors. With the two camps at an impasse, Fleetwood eventually bought out Crean's stake in the company for $177 million in February of 1998. The price was close to $48 per share. That didn't stop the fighting, however. When Fleetwood considered merging with another company, believed to be Oakwood Homes Corp. (OH), Crean, who still held the title chairman emeritus, continued to second-guess management. The merger never went through, but in April of last year, Crean's opposition prompted Kummer and Potter to revoke his privileges to attend Fleetwood board meetings.
No sooner was the boardroom contretemps resolved than a new crisis erupted, again on the manufactured-housing side of the business. Lenders, hungry for business, had dropped the level of downpayments required for new mobile-home purchases from 20% to 5%. Some manufacturers took that one step further, offering rebates that allowed customers to leave the lot with a new home with no money down. Ultimately, the bad loans and overexpansion came back to haunt the industry. Mobile-home foreclosures soared. With a third of its business in manufactured-housing loans, earnings at Green Tree, then a unit of Conseco Inc. (CNC), plummeted, taking Conseco stock along with it. Many lenders exited the business or sharply cut back their loans, causing sales industrywide to collapse.
Now there's trouble on a second front. Fleetwood's overall market share in recreational vehicles has slid from around 30% of total industry sales just a few years ago to 22% today. In particular, Fleetwood is losing sales of high-end diesel-powered machines to companies such as Monaco Coach Corp. (MNC), which builds its own chassis and claims to have higher-performing RVs. Fleetwood was also slow in rolling out vehicles with slide-out sides that greatly expand the available space when parked, says shareholder Robert L. Rodriguez, chief investment officer of First Pacific Advisors, who has purchased 3.3 million Fleetwood shares in recent months at what he considers fire-sale prices.
Meanwhile, expecting another good year, the company stocked up on chassis for its coaches. But higher interest rates and soaring gasoline prices have crimped RV sales. In the company's most recent quarter, Fleetwood's unit sales of RVs dropped more than 50%, a far worse performance than the industry as a whole. In late August, Kummer and Potter fired the top two executives in Fleetwood's RV unit.
Founder John Crean continues to be a major Fleetwood critic. Crean blames the company's losses and lousy stock price performance on Kummer and Potter. Jumping in at the top of the market, Fleetwood paid fancy prices for its manufactured-housing dealerships, Crean says. The purchases, coupled with the shares bought back from Crean, caused Fleetwood's debt and preferred stock obligations to shoot from $55 million to $367 million in two years. All that spending hasn't added much to the bottom line: Fleetwood's mobile-home retailing unit lost $8.5 million on $157 million in sales in the company's first fiscal quarter, which ended July 30.
Kummer and Potter say the losses in the mobile-home retailing business are only temporary. They say that Fleetwood has invested heavily in the past two years in new computer systems, training programs, and spiffy new sales lots that will be the best in the industry. And they insist that new management in the recreational-vehicle business will stem the company's loss of market share. "We spent many hours discussing the move into retail," says Potter. "The alternative was to do nothing."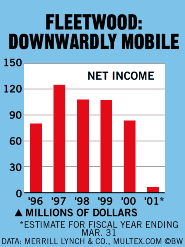 There is one bright spot. Fleetwood wasn't the only mobile-home maker to get clobbered recently. Many in the industry are now closing plants, including 10 to be shut down by Fleetwood this year. That reduction should ease the industry's overcapacity problem, says Merrill Lynch's Curran.
It's not yet clear whether Kummer and Potter's decision to enter the mobile-home retailing business was flawed or merely ill-timed. Certainly, if they were buying today, they could snap up dealerships for far less. But either way, the retailing troubles are just a part of Fleetwood's problems. With profits plummeting and market share shrinking, Fleetwood management needs to steer clear of its internal strife and focus on getting the company back on the road to profitability.
Before it's here, it's on the Bloomberg Terminal.
LEARN MORE