Commentary: Will Kodak's Carp Miss His Photo Op?
Geoffrey Smith
Dan Carp had better watch out. As chief executive of Eastman Kodak Co. since Jan 1., he has already run into deep trouble, even before finishing his first year on the job. Now, he faces the prospect of joining the list of Kodak executives who have bungled the company's transition from traditional film to the digital world.
Indeed, on Sept. 26, Kodak CFO Robert Brust broke the stunning news that September sales "are in a big derailment." Brust says the problems are across almost all product lines and are most severe in film. With third-quarter earnings now expected to fall as much as 15% below Kodak's June estimates, and next year's results up in the air, shares hit a 6-year low of $42.50 on Sept. 27.
This is eerily reminiscent of the problems facing telecommunications icon AT&T. Both companies have core businesses that are gradually being replaced by new technology. In Kodak's case, the company's film business, with $13 billion in sales, is struggling and will show little revenue growth this year. Sales at the digital units, which include everything from cameras to transmission of images over the Internet, should hit $2.5 billion, and were expected to expand by 20% before Kodak's latest news. Not surprisingly, investors are far more interested in the growth potential of its new high-tech business, but they have been fleeing in droves because of persistent worries about its older business.
Carp needs to move quickly to restore Kodak's credibility. No doubt, part of the company's shortfall is tied to problems in the world economy that are affecting businesses ranging from chipmaker Intel to consumer-goods kingpin Gillette. Even so, Kodak's stunning decline was far worse. It "needs to do something decisive and dramatic," says David A. Katz, a money manager at Matrix Asset Advisors Inc. in New York. "Kodak has fallen into a pattern of always taking three steps forward and two steps back," he complains.
There are no easy answers for Kodak. But Carp still has options left. Kodak, first, needs to throw its marketing muscle behind its digital business. The Sydney Olympics, for instance, were a perfect marketing platform for Kodak's digital cameras and its new consumer-friendly Web site. Instead, Kodak is running ads exclusively promoting its traditional film business.
Furthermore, Carp needs to come up with new hit products in digital imaging and squeeze more value out of its existing digital unit. Kodak has been unable to create "buzz" around any of its recent digital products, including its latest crop of digital cameras. And while the company has a treasure trove of technology under development, ranging from advanced image sensors to software for enhancing digital images, truly innovative products have been sparse.
And if Kodak's share price continues to fall? Some believe the time might be right for a leveraged buyout. The public markets aren't doing Kodak or its investors any favors. Its stock has gone nowhere since 1997, even with a $1.2 billion stock buyback this year and having hit earnings targets for six consecutive quarters. If Kodak's stock continues to deteriorate, shareholders might jump at the chance to sell Kodak their stock back at a premium of 35% or so, typical for an LBO.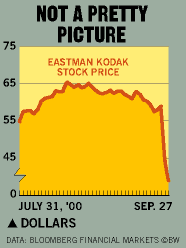 Could management pull it off? It wouldn't be easy, given today's tight debt markets. But Kodak meets the first test for going private. Thanks to its traditional film business, it generates enormous free cash flow--as much as $10 billion over the next five years, the company estimated in June. With just $3 billion in long-term debt, Kodak would still have resources to spend heavily on its new digital business.
True, old habits, such as favoring the film business, die hard. But unless Carp starts making some radical changes in favor of Kodak's digital unit, future quarters are only likely to present even worse pictures for investors.
Before it's here, it's on the Bloomberg Terminal.
LEARN MORE