Border Feuds May Prove Costly...And Cries Of "Sell Out" Resound
Christina Hoag
Guyana, South America's poorest nation, started the new millennium thinking it was ushering in a new economic era. Over the past year, the government has awarded four new offshore oil-exploration concessions, worth around $50 million, and signed a contract for a $100 million satellite launchpad project--no small feat for this former British colony of 800,000, perched on South America's remote eastern shoulder, where direct foreign investment totals just $350 million. But nothing, it seems, is simple for a poor country: Publicity about the new projects has revived century-old border disputes with neighbors Venezuela and Suriname, making Guyana's millennium look a lot less bright. "We're obviously disappointed," says Prime Minister Samuel Hinds. "We would hope that potential investors would not be put off."
That may be a vain hope. An offshore drilling rig installed by Toronto oil company CGX Energy Inc. was towed off on June 3 by Surinamese gunboats because the rig was sitting in territorial waters claimed by the former Dutch colony. On Guyana's western flank, Venezuela is raising a brouhaha over Dallas-based Beal Aerospace Technologies Inc.'s plan to build a commercial satellite base on land claimed by Venezuela. Neither of Guyana's neighbors seems bent on going to war, but they are pressuring investors.
The Guyanese are bewildered by the sudden revival of the dormant disputes, a legacy of colonial days, and suspect both Venezuela and Suriname are trying to divert attention from domestic worries. "Over the years, we've given out major concessions, and there was never a problem," says former President Desmond Hoyte. Investors were also taken aback. "We weren't even aware there was a border dispute," says David Spoede, Beal's vice-president for government relations. Both Venezuela and Suriname say they're merely protecting their interests.
Guyanese officials admit their neighbors' actions could have serious economic effects. The two-thirds of Guyana claimed by Venezuela is rich in gold, diamonds, bauxite, other minerals, timber, and possibly oil. The region, west of the Essequibo River, holds the country's biggest foreign investor, Omai Gold Mines, a Canadian-U.S. consortium, and a host of smaller concessionaires. Venezuela is a particular threat because several major investors, such as Exxon/Mobil Corp. and the Chinese government, have multibillion-dollar projects in that country, as well as concessions in Guyana. Venezuela, a top U.S. oil supplier, has asked those companies to halt their Guyanese plans and is lobbying Washington to block State Dept. approval needed to transfer sensitive technology for the Beal project.
TOO CHEAP? The fuss has already had a chilling effect, as investors put projects on hold. "Companies aren't going to start drilling if there's instability," warns Denis Clement, director of CGX. So far, no company has renounced its concession. CGX, for one, intends to wait out the controversy and resume drilling. "There's 20% to 30% probability of finding oil, but if we hit, it'll be big," Clement says. Guyanese officials better pray that other investors are as patient.
Opposition to the satellite project isn't coming only from abroad. The Guyanese government also faces domestic challenges to the May contract from opponents who charge that officials were overly eager to attract a showcase foreign investor. Guyana is First, a private watchdog group, has filed a lawsuit alleging that the contract's 99-year tax holiday and blanket permit are unconstitutional. The political opposition, the People's National Congress party, also promises to use what they see as the government's paltry financial return both from the land sale--$325,000 for 175,000 acres--and a $25,000 per-launch fee as a prime issue in January's presidential election.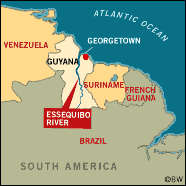 Prime Minister Hinds admits the deal doesn't generate much cash for the country but says opponents are being short-sighted. Besides the 500 construction jobs and 200 permanent jobs to be created on next-to-useless swampland, the Beal project will elevate Guyana's international profile and attract other high-tech investors to wean the country off sugar-export dependence, he says. That plan may go nowhere, however, until the border disputes are resolved, and so far talks are barely moving. Says Frank Beckles, head of Guyana is First: "A country that does not have secure borders cannot attract investment."
Before it's here, it's on the Bloomberg Terminal.
LEARN MORE