Will Opec Go Along With Chavez' Ambitions?
The Venezuelan leader sees a bigger cartel vying with the U.S.
Christina Hoag
Not long ago, Venezuela was OPEC's rebellious child. The world's sixth-largest oil producer openly flouted the cartel's quotas while it charged ahead on an ambitious plan to double crude output to 6 million barrels per day by 2007. For a while, Caracas even toyed with the idea of dropping out of the club, which it helped found back in 1960.
But Venezuela's days as an OPEC renegade ended the day Hugo Chavez became President. Since taking office in February of 1999, the left-leaning populist has been on a quest to catapult Venezuela into the leadership of the cartel. He has made some headway: in March, OPEC appointed Venezuelan Energy & Mines Minister Ali Rodriguez president, and later agreed to adopt his proposal for an oil-price stabilization mechanism. And Chavez' big moment will come Sept. 27-28, when he will play host at OPEC'S 40-year anniversary celebration in Caracas.
Chavez loves OPEC. The question is whether OPEC can learn to love Chavez. He certainly has his sights set on some grand projects. Among the items up for discussion at the Caracas summit are an OPEC university, to oversee research and development of new technologies for the industry, and strategic alliances between the cartel's members in areas such as exploration. Chavez also wants to open up the club's membership to other oil producers, including Russia, Mexico, Norway, Oman, and Angola, whose delegates will be attending the meeting as observers. "Chavez is a dreamer," says Mazhar Al-Shereidah, oil policy professor at the Central University of Venezuela. "Senior members of OPEC are not easily going to go along [with his proposals]."
What's spurring Chavez on is the success so far of his oil strategy. Besides prestige, there's the bonanza that comes from higher oil prices. Venezuela, which depends on oil for 60% of its export revenue, is expected to reap a $10 billion windfall this year. Caracas has done its part in boosting oil prices by curbing output. Thanks to its own efforts, and those of other major producers, the price of Venezuelan crude has shot up from $8 a barrel in early 1999 to more than $30.
Yet Chavez policies may be doing Venezuela's oil industry more harm than good. Because of the cutbacks, the country has lost its coveted spot as the top supplier of crude to the U.S. (it's now in fourth place). It might never recoup that title: Analysts estimate that the state-owned oil company, Petroleos de Venezuela (PDVSA), has sacrificed between 350,000 and 700,000 barrels per day in production capacity. The shuttered wells are difficult and expensive to reopen. So there's a risk that when oil prices start falling, PDVSA will be unable to quickly ramp up output to compensate for the lost revenue. PDVSA President Hector Ciavaldini insists that capacity will reach a record 3.95 million barrels per day by yearend, but analysts think that's unlikely.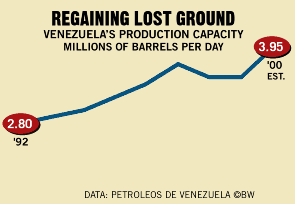 UNDONE DEALS. Some of Chavez' moves have also alarmed investors. Since the country's oil sector was pried open to allow private capital in 1996, foreign companies have plowed some $10 billion into joint ventures with PDVSA. But Chavez' habit of vetting each and every deal--even done ones--has some investors wondering whether the welcome mat is still out. One of them is a U.S.-Canadian consortium made up of Williams International, Enbridge, and Northville Industries, which in 1998 signed a $385 million contract to purchase an oil storage terminal on Venezuela's northeastern coast. Now, the government wants the companies to settle for just an operating concession. "We were certainly disappointed," says Jim Rennie, the consortium's spokesman.
Chavez' biggest fantasy of all may be that he can use OPEC to challenge U.S. geopolitical hegemony. He clearly delights in raising Washington's hackles. In August, he became the first head of state to pay a visit to Iraqi leader Saddam Hussein since the end of the Gulf War in 1991. "Chavez has an inclination to use OPEC to conduct Third World foreign policy, much like in the '70s," says analyst Eduardo Lopez of Petroleum Finance Corp. in Washington, D.C. That's quite an ambition--but will it do Venezuela's oil industry any good?