Why Juniper Has Some Backbone
by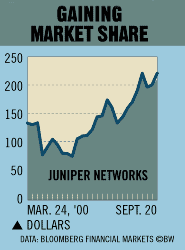 Juniper Networks (JNPR) is on fire: Its stock has vaulted 272% this year, to 220 a share, in a market that has been quite treacherous. The stock is trading at rich multiples: It has a market cap of $65 billion, trades at 141 times estimated 2000 revenues and 483 times estimated 2001 profits. What's driving the stock? Juniper is in a two-horse race with Cisco Systems in the so-called Internet core router market, where Cisco has nearly an 80% share. "But Juniper is fast gaining ground--at the expense of Cisco," says Salomon Smith Barney analyst Alex Henderson. Cisco has a complete line of router and switching products that connect and manage local and wide area networks. The Net router is just one of its many products. But to Juniper, the Web backbone router is its bread and butter. The router enables Internet service providers and telecom carriers to transmit both data and voice at high speeds.
"Juniper's share of the core router market has jumped from 17% to 22% in the June quarter, but we think it may have accelerated to well over 25% in the third quarter," says Henderson. His new target for the stock: 310. He says key customers now realize that "Juniper's product is head and shoulders better than Cisco's router line." He predicts Juniper will continue to gain market share well into 2001. He expects Juniper to earn 30 cents a share in 2000 on sales of $515 million, 44 cents on $989 million in 2001, and 58 cents on $1.45 billion in 2002.
Before it's here, it's on the Bloomberg Terminal.
LEARN MORE