Who'll Tow Daewoo?
With Ford gone, Seoul needs a buyer
Moon Ihlwan
Twenty-five billion dollars. That's how much money was wiped from the Korean stock market in the days after Sept. 15, when Ford Motor Co. announced that it was abandoning its bid for the insolvent Daewoo Motor Co.
But the three-day market plunge of 12% is just part of the huge cost of this collapsed deal. The South Korean government desperately needs a buyer for Daewoo's car unit, the best part of the insolvent Daewoo chaebol, which has collapsed under some $79 billion in debt. By selling the carmaker to Ford, the government had hoped to restore faith in its program to offload deeply indebted companies, as well as send a message to jittery markets that it can stay the course on economic reform. "The breakdown of the Ford-Daewoo deal sheds light on the problems Korea faces," says Kim Ky Won, an economics professor at the Korea National Open University. "There are minefields ahead, and the government has yet to clear them."
Ford's surprise withdrawal could not have come at a worse time. What actually happened is still unclear. Ford says its due diligence revealed problems with Daewoo's assets that turned out to be more than the U.S. carmaker bargained for. There may be truth to this: The Korean government is now investigating Daewoo founder and Chairman Kim Woo Choong and his top lieutenants for allegedly concealing far higher liabilities at the conglomerate than the government expected.
TIRE TROUBLE. But many Koreans suspect that Ford's own problems factored into the surprise decision. Ford completed the due diligence in mid-August but pulled out of the deal almost a month later. In between, of course, the fiasco involving Bridgestone/Firestone Inc. tires and Ford's Explorer overtook the company. The feeling in Seoul is that Ford's globally ambitious executives figured a risky Daewoo deal just couldn't go through as long as the tire scandal was hanging over the company.
Whatever the truth, Ford's pullout could not have come at a worse time. Soaring crude oil prices and flattening demand for semiconductors could smother Korea's nascent economic recovery. The economy does not need a severe knock on confidence from a Daewoo deal gone sour.
The question is whether the administration of President Kim Dae Jung will manage to sell off distressed businesses and clean up the banking mess before the economy slows. "We fully understand how vital it is to find a new owner for Daewoo," says Cho Won Dong, who oversees economic reform at the Finance & Economy Ministry. A Daewoo Motor sale would be of enormous symbolic significance. Moreover, it also would take about a third of Daewoo Group's debt off the financial system's balance sheets, the bulk of which will be tallied as losses for financial institutions.
The government-backed restructuring committee for Daewoo, led by Oh Hogen, hopes to name a new buyer within a month and has invited two consortiums to bid. One teams up General Motors Corp. with Fiat. The other: DaimlerChrysler and Hyundai Motor Co. To speed the process, says the Finance Ministry's Cho, creditors are willing to let the buyer take over Daewoo Motor's management before settling on a price--a sign of how keen the banks are to ink a deal. Creditors have even said that if DaimlerChrysler won't bid, Hyundai could do it alone on condition that it find a foreign partner later.
But the government's Fair Trade Commission could oppose a Hyundai takeover of Daewoo, which would result in a monopoly in Korea's car market. Renault, which took over Samsung Motors earlier this year, would be the only other carmaker left in Korea, and it only has a 5% share of the Korean market. Another problem: DaimlerChrysler, which earlier made a joint bid with Hyundai, has publicly judged Daewoo "too risky."
That leaves GM. The U.S. auto maker owned half of Daewoo Motor for 15 years, until a management dispute in 1992. It knows the company well and last year offered to buy it at a sum reported to be around $4 billion. Indeed, many Daewoo cars are based on GM's platforms, and Daewoo still imports engines from GM's Australian subsidiary, Holden. Creditors balked at last year's offer, saying it was too cheap. But they might be grateful for a GM offer again. "Certainly, GM will be offering less [than Ford's $6.9 billion] now," says Seoul National University economist Min Sang Kee.
RISK FACTORS. The probable price tag leaves the Kim administration facing a thorny dilemma. On the one hand, selling the embattled carmaker to GM at a bargain price would send a clear message to other chaebol that they may wind up selling their assets cheap unless they fix themselves soon. On the other hand, Kim would certainly be attacked for selling Daewoo for a song--just when the government must spend billions more in taxpayer money rescuing the banking sector. And it is largely Daewoo's nonperforming loans that are sapping the viability of the banks. No wonder some industry officials are even suggesting that Daewoo Motor's dozen factories around the world be broken up for sale so as to fetch a higher price.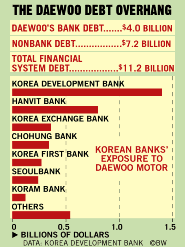 Whichever course Kim takes, he must act quickly. Delaying the sale will not only increase the burden on creditors--who spend a combined $130 million a month keeping Daewoo Motor alive--but diminish the auto maker's value. As it is, Daewoo, which makes sedans as well as sport-utility and commercial vehicles, has been losing customers. Domestic market share dropped from 28% in the first half of 1999 to 23% in the same period this year. The company reported a net loss of $834 million in the first half, almost double the loss of a year before.
Selling formerly treasured assets through a fire sale remains politically risky. But Daewoo's debts must be cleaned up. Otherwise the banks will remain buried under the bad loans to Daewoo and other chaebol and do little new lending to the sound companies that need capital. Come next year, when politicians begin preparing for Korea's 2002 presidential elections, neither voters nor elected officials will have the stomach for bold steps. The Daewoo mess needs a solution--fast.
Before it's here, it's on the Bloomberg Terminal.
LEARN MORE