Trash Becomes A Burning Issue...As Poisoned Water Raises Fears
Mike Clendenin
At the Touch Stars Revolving Restaurant, where 60% of the customers are couples, there's romance in the air. And just outside, there's dioxin, too, because the eatery is perched near the top of an incinerator smokestack, nearly 400 feet above the ground. On a typical day, manager Yang Shih-hua serves about 300 people, while her landlord burns 1,800 tons of trash. "I don't feel odd at all," says Yang. "This is the best view of Taipei, so I feel proud of it."
So does the city government, which launched the one-of-a-kind restaurant earlier this year to allay fears of the burning trash. Taiwan's central government hopes to burn 90% of the island's waste by 2003, up from 61% now. Faced with a shortage of landfill space and a growing population, the government says incineration is the most economical way to get rid of waste. But opponents, worried about carcinogen-spewing smokestacks, say it isn't the responsible way. They're pushing recycling programs with the hope of cutting waste by at least 50%.
With that target in mind, opponents of burning say, Taiwan could scale back its plan to have 21 large-scale public incinerators running by the end of next year, up from 9 now. An additional 16 private incinerators are set to open by the end of 2003. Nearly 100 small, unregulated incinerators are already sprinkled across the island. "The budget for an incinerator is huge," says Cheng I-ching, who represented Taiwan's environmental groups at a recent Asian forum against incinerators. "If we just used the interest from such a budget to promote alternatives, we could really make headway in solving the problem."
Opposition to incinerators has grown during the past several months because of greater concern about dioxin, a by-product of burning that is a powerful carcinogen. Worries have been fueled by reports of incinerators that exceeded mandated dioxin levels, including two of three in Taipei that were 10 times over the limit. They're now being refitted.
Environmentalists have launched aggressive campaigns against offending incinerators. Protests occasionally turn violent, and civil disobedience is rising. The Taiwan Environmental Protection Administration (TEPA) has acknowledged that such public pressure led to the temporary closing of at least 10 small-scale incinerators.
GOOD MODEL? Everyone agrees that the island must cut the mountain of waste it produces. The city of Taipei, aiming to eliminate landfill use by 2020, took the lead in July with a recycling program that cut waste sharply in the first month. According to the city's Environmental Protection Bureau (EPB), an average of 1,800 tons a day was collected in July, 39% less than the 1999 daily average. That kind of result has prompted calls for closing one of the city's incinerators, all of which have been built since 1992 at an average cost of $150 million each. "We may close one, because two will probably be enough," says Ku Chih-kang, an incinerator supervisor at the EPB. But with massive investments already made, he warns that people shouldn't expect a quick phaseout.
Advocates of recycling hope Taipei's program will become a model for Taiwan. "We'll need a long-term training and education project combined with enforcement," says Cheng. "It's not easy to get people to change their habits."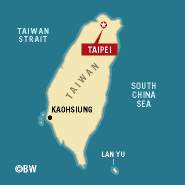 For residents of the south, it also won't be easy to overcome long-term water-quality problems. In a July incident linked to the shortage of waste disposal sites, more than 100 tons of toxic chemicals were illegally poured by Shengli Co., a waste handler, into a river that feeds the water supply of Kaohsiung, the south's largest city. Some 3 million people went without tap water for five days.
As part of a "Clean River, Clean Water" program, the central government is promising changes over the next three years, including construction of water purification facilities and the removal of polluting industries near reservoirs. "The Kaohsiung problem is giving the government a chance to review its policy before something really bad happens," says Wu Wen-tung, an environmental activist. Some in Kaohsiung say the dumping was bad enough. Others, pessimistic about government promises, are bracing for something worse.
Before it's here, it's on the Bloomberg Terminal.
LEARN MORE