Tony's Fall From Grace
The oil crisis has left Blair with far less clout
Stanley Reed
What a bizarre turn of events. In early September, Prime Minister Tony Blair was cruising along with some of the highest poll ratings in British history. Then, beginning on Sept. 7, a couple of thousand truckers and farmers blockaded fuel depots and refineries, jeering Blair and eventually bringing much of Britain to a halt. Now, after enjoying double-digit leads for much of his almost 3 1/2-year term, Blair is actually less popular than the much scorned Conservatives. An ICM poll on Sept. 19 for newspaper The Guardian shows Labour trailing the Tories by 38% to 34%.
The blow comes as Blair heads for a crucial late September party conference. A general election must be held by May, 2002, and many analysts predict Blair will call one earlier--perhaps in the spring of 2001. The 47-year-old Prime Minister still is considered the front-runner over Conservative Party Leader William Hague. But for the first time, the race looks as if it could turn into a serious contest.
"NASTY MOOD." The sudden tightness of the race is bound to heighten scrutiny of Blair and limit his options. Issues ranging from from the euro to taxes to health care could all damage him. Infighting in the cabinet is likely to increase. In recent days, the British press has reported a split between Chancellor of the Exchequer Gordon Brown, who is resisting giving in to the fuel protesters, and other ministers: They think that the government must make some concessions on gasoline taxes. Blair will have a hard fight reconciling the demands of modernizers in his party with Labour's more traditional supporters, who feel that the tight spending policies he has pursued up to now have betrayed them. Partly to appease disaffected Labourites, Blair has promised to jack up spending by more than 3% per year over the next three years.
Blair has been on the defensive all year. But the oil crisis is by far the trickiest political problem he has faced since moving into 10 Downing Street. The fuel blockades exposed him to withering criticism for letting fuel taxes rise to 86 cents per liter--by far the highest in Europe. The protesters captured public anger over other Labour failures, including the deteriorating performance of the National Health Service. Blair's refusal to give in to the protesters' demands to cut taxes may have been good fiscal policy, but it made him look out of touch, giving an easy advantage to Hague. "The public has been very placid for the last few years," says Robert M. Worcester, chairman of the MORI polling organization. "But now it is in a nasty mood."
Blair could well bounce back. But he needs to make a much bigger effort to explain himself to the public and dispel perceptions that he is all image and no substance. He also will be held to his 1997 promises to fix education, which shows signs of improving, and the NHS, which does not.
Lucky for Labour, the public remains very skeptical of the Conservatives. Hague doesn't have much of a program. He holds out the promise of lower taxes but only says he would cut fuel duties by 5 cents per liter--hardly revolutionary. Despite his credentials as a former McKinsey & Co. consultant, Hague has alienated much of British Big Business by opposing Britain's joining the single currency until after the next Parliament adjourns--probably seven years from now. And he's vulnerable to Labour charges that a Tory win would mean reductions in public services. "Whatever the public thinks about Labour, they have complete contempt for the Tories," says Roger Mortimore, senior political analyst at MORI.
MANEUVERING ROOM. Blair does have room to maneuver. He may be able to deliver a tax cut before the election--answering critics who carp that the ratio of tax revenues to gross domestic product has risen by two percentage points under his government. Despite the hefty increases in spending, the budget still is expected to show a surplus in the range of $30 billion this year. But he has to watch that he does not set off inflation--now at an annual rate of 1.9%. Danny Gabay, U.K. economist at J.P. Morgan & Co. in London, says industries closely linked to government expenditure such as construction are growing at a "quite frightening" double-digit pace. If so, interest rates, now 6%, would increase, alienating business.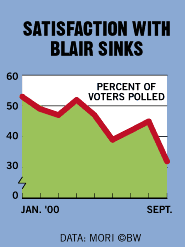 So far, Blair has proved surprisingly good for business. He has delivered respectable economic growth, chopping unemployment from 7.2% to a 25-year low of 5.3% during his term. While he infuriated the oil companies by trying to shift onto them blame for the fuel protests, he retains the good will of Britain's New Economy heavyweights for slashing capital-gains taxes to just 10% and for stumping for more high-tech investment. "He has been pretty good," says Mike Lynch, CEO of software developer Autonomy Corp. in Cambridge. "The fuel protest has not changed my views."
The euro is another matter. Blair's new difficulties make it less likely that he will take Britain into the single currency anytime soon. It is "now just too dangerous" for Blair to talk up joining the euro before the election, reckons James Lister-Cheese, global strategist at consultants Independent Strategy in London. That is likely to push back further Britain's already uncertain timetable for joining. If he finds himself in a tight race, ditching the pound for the tattered euro will be the last thing on Tony Blair's mind.
Before it's here, it's on the Bloomberg Terminal.
LEARN MORE