business
The Boss Grew Up Here But Mum's The Word
Mark Hyman
The Boss Grew Up Here But Mum's The Word
Mark Hyman
Like a lot of my contemporaries pushing 45 and wondering where we'll find our hairlines at 50, I'm an unabashed fan of rocker Bruce Springsteen. Need I tick off my Boss credentials? Have the albums. Hum the lyrics. Bought the T-shirts. And on the just-concluded Springsteen tour, my wife and I pulled a rare (for us) bi-coastal, plunking down big bucks for shows in Washington, D.C., and Oakland, Calif., in a three-week stretch.
And there's something else. Springsteen and I share the same hometown: Freehold, N.J., a stout working-class hamlet of 10,000 smack in the center of the state. Like the rocker I've never met, I was born in Freehold and spent my childhood there. I played Little League in Freehold, like the Boss, was a rabble-rouser in Mr. Cook's 7th-grade English class, and count among my fondest recollections the crunchy tuna sandwiches served at the Sweet Shop on South Street.
I live in Baltimore now. But when I return home, as I do two or three times a year to visit my parents (and wax nostalgic for the sandwiches, which are no longer served), I'm inevitably taken aback by what, on first impression, seems a terrific slight against the burg's most celebrated son. Nowhere in this rebounding small town of outdoor cafes and restored Victorian houses is there public acknowledgment of the Boss's Freehold roots. Nothing as grandiose as a Springsteen Museum looming over the center of town nor even as simple as a street sign in the shape of an acoustic guitar.
Isn't such recognition the birthright of the trend-setting rocker? Elvis Presley, dead for nearly 25 years, remains among the top tourist draws in Tennessee--or, more accurately, Graceland, the Big El's garish Memphis estate. Even an outpost like Hibbing, Minn., throws a few bouquets at its hometown rock icon, Bob Dylan. The local Dylan exhibit is housed in the basement of the local library--and amounts to a few vintage Dylan posters--but at least there's some place for pilgrims to pay their respects.
Freehold, on the other hand, stands resolutely, almost defiantly, silent. Which, as it turns out, is pretty much the way Springsteen wants it. "We've been pretty sensitive to overblowing what you'd call the nostalgia of him growing up here," says Michael Wilson, Freehold's mayor, who calls Springsteen about issues of concern to the town a few times a year.
The low-key approach has worked for Freeholders and for Springsteen in ways few outsiders know or might suspect. Springsteen, who turned 51 this month, does come home again. And when he does, he gets to walk the downtown streets like the Everyman he yearns to be but no longer is. Among recent sightings: Springsteen gabbing with friends at Federici's, home of the town's premier pizza; Springsteen hunkered down at the town library poring over a magazine; Springsteen, hat pulled down low, on a family outing at Kruise Nite, a monthly parade of vintage cars through the business district.
NO GROUPIES. These sketchy reports are hard to come by, even for a busybody native like me. My questions about Springsteen--who the media-shy crooner hangs with--and where he's likely to pop up next--were met with downward, discouraging glances by most townsfolk. The people who know the most seem to protect his privacy most zealously. When Springsteen's father, Douglas, died in 1998, the funeral was over before many in town even had learned of the death. "There were people who knew, obviously. But if word got out, it would've breached that trust," says journalist Kevin Coyne, Freehold's town historian, who's working on a book about its World War II veterans.
The rewards for such discretion are substantial. By treating Springsteen like he's no big deal, Freehold has been able to keep its local-boy-made-great in its midst. He and his wife, Patti, and their three children live a 15-minute drive from the town, in a mansion set back from the road to shield it from groupies and gawkers. His mother, Adele, still lives in the area, as do two aunts. "As opposed to being a statue, he's a living presence," says Coyne.
No one, of course, could have predicted 30 years ago that Freehold would ignore Springsteen so studiously. No one who knew the scrawny kid with the faraway look in his eye saw him as the town's ticket to fame. He grew up in a middle-class family in which both parents worked to provide for their children--Bruce and his sister, Pam. Springsteen's late father shifted among jobs--taxi driver, rug mill worker, guard at the county jail. His mother had the steadier job, as a secretary at a local real-estate title office.
The younger Springsteen was a quiet, inward-looking child who by his own reckoning never fit in. By the time he arrived at Freehold High School, he was wearing his hair long and spending his time--too much time, his father would say--learning to play the guitar. He formed a teen band called the Castiles that played gigs at the local YMCA canteen and he allowed himself to dream of audiences and dance halls beyond the small town. After high school and a brief try at community college, he leaped into the local club scene, making an impression in noisy rooms at the Jersey Shore. I remember the excitement when his first album, Greetings From Asbury Park, N.J., arrived in stores in 1973, and the anticipation when Carl Bernzweig, my grade-school buddy, invited me over to sample a few songs. To our 16-year-old ears, the music was exciting, even bizarre.
By 1975, Springsteen had released three albums, the last of which, Born to Run, had sent his career arcing toward stardom. With its pulsing rhythms and personal lyrics, Born to Run created ripples that extended far beyond the traditional boundaries of rock and roll. In a heady week for Freehold in October, 1975, Time and Newsweek both featured Springsteen on their covers, one pronouncing him "the future of rock and roll." In the years afterward, Springsteen has proven a rock star with staying power. A quarter-century later, his arena concerts still sell out in minutes. His fans, older, grayer, are no less devoted.
HARD TIMES. Even when he has lived somewhere else, Springsteen's songs have borrowed liberally from his boyhood in Freehold. There are the occasional Springsteen lyrics that invoke a familiar name or town landmark. When Glory Days came out in the mid-1980s, for example, it set off a local guessing game about the high-school baseball player Springsteen had in mind when he wrote: "He could throw that speed ball by you; make you look like a fool."
Other Springsteen songs leave less to interpretation. My Hometown lays bare the hard times that gripped Freehold for much of Springsteen's childhood: racial tensions that boiled over in an altercation between white and black youths, the closing of the A&M Karagheusian rug mill that cost the community 1,500 jobs, and the flight of downtown merchants to suburban shopping malls. "Now Main Street's white-washed windows and vacant stores; Seems like there ain't nobody wants to come down here no more," sings Bruce.
More recently, Springsteen set to music some of his more prickly emotions. The Freehold of his youth could be an inhospitable place to those living outside its middle-class mainstream, as he explains in his ode Freehold. "If you were different, black or brown, it was a bit of a redneck town," he recalls in the song, only half kidding.
LEND A HAND. Those rough patches, though, have been largely forgotten or forgiven. Wilson, the town's mayor since 1985, has had a lot to do with mending relations. He's the perfect go-between--a hip public servant with a rock band in his own background. In the late 1960s, Wilson was guitarist in a local group that couldn't quite match the Springsteen sound. "He became a rock star, I became the mayor. Probably best for all of us it worked out that way," says Wilson with a chuckle.
Over time, Springsteen has become something of a patron saint to the town, quietly extending a hand when there is trouble that a famous face or a large contribution might fix. When the call goes out to the Boss, usually there is also some social agenda as well. That was the case in 1985, when 3M announced plans to downsize its Freehold plant and Springsteen lent his name to a newspaper ad protesting the decision. In 1996, Springsteen came to the aid of his alma mater; he played a benefit concert in the 1,300-seat gym of St. Rose of Lima, his old Catholic School. Concert tickets, at $30 a pop, were available only to residents of Freehold, and the proceeds went to a new parish center being built to serve the town's growing Hispanic population.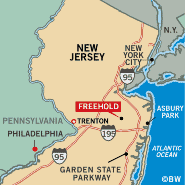 In return for such good deeds, Springsteen asks that the town fathers resist efforts to turn the eccentric little town into Springsteen-ville. What a deal. "All the people in power respect the truce," says Coyne. A few years back, the town shunned a sculptor's proposal to erect a Boss statue in front of Freehold Boro Hall. "He was personally grateful that didn't take place," says Wilson. In the same vein, a move to rename South Street, one of the town's main thoroughfares, "Bruce Springsteen Boulevard" also fell flat. "The people from Freehold don't have to name streets or parks. They know what it's all about," notes Mike DiBenedetto, a town councilman and third-generation Freehold barber.
If you're in Freehold looking for a Springsteen landmark, there is one place you might try, though. Over at the firehouse a gleaming yellow truck is parked and ready for its next call. The town bought its handsome firefighting wheels with a $100,000 gift from the Boss. You'll know the truck when you see it. Stenciled into the paint: "Born to Run."