Spain: The Economy Is Getting Too Hot To Handle
by
Amid hot growth and rising inflation, there's growing risk that Spain's economy is overheating. August consumer prices rose 3.6% from the year before, matching July's four-year high and well above the 2.4% euro zone average (chart).
The boom continued in the second quarter of 2000, as real gross domestic product grew 1% from the first quarter and 4.2% from the year before. Since mid-1997, growth has averaged 4.2% annually. The chief catalyst was a sharp fall in interest rates when Spain joined the single-currency system. Consumer spending and construction are particularly strong, and business investment in equipment is also up smartly.
The tripling in oil prices since early 1999 has fueled overall inflation across the euro zone. But in Spain, core inflation--excluding energy and food--is also rising. It stood at 2.7% in August, up from 2.5% in July, after staying stable for two years. This is a sign that broad price pressures are building.
Some of the pressure reflects the pass-through of higher energy prices. Some stems from the mix of strong demand and the weak euro, which is lifting import prices. The growing fear, though, is that higher inflation expectations are becoming embedded in the wage and price structure. Second-quarter wages rose only 2.5% from the year before. Some attempt to recoup lost buying power is showing up. All wage agreements in place in July had raises averaging 2.85%, but the new contracts call for 3.09%.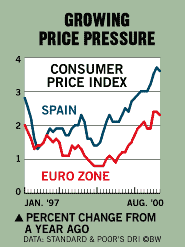 Another worry is that higher inflation is eroding Spain's competitiveness, as seen in its widening trade gap. Booming tourism, about 10% of Spain's GDP, has not offset the growing deficit in merchandise, as imports have surged.
Anti-inflation efforts by the government include a faster pace of labor-market reform and deregulation of telecommunications and other utilities. Also, the Bank of Spain is trying to crimp credit growth by raising banks' loan-loss reserves. Still, with the government reluctant to tighten fiscal policy, the only remedy for overheating will most likely be a cooler pace of growth.
Before it's here, it's on the Bloomberg Terminal.
LEARN MORE