Covad Is So Cheap It May Be Up For Grabs
Some rate DSL operator Covad a "buy"
By
Given the Street's eccentric logic, it isn't surprising that Covad Communications (COVD) is still rated a buy by some analysts--although investors have fled. Trading at 66 a share in March, the stock has plunged to 15. Analyst Allan Roness of JWGenesis Financial Group expects Covad, operator of the largest digital subscriber line network for Internet access, to trek back to 30. He notes that Covad's network has 1,700 central offices capable of reaching 42 million homes and businesses in 81 of the largest cities.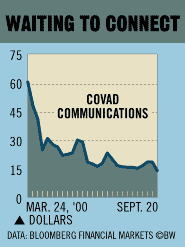 One big plus: At its depressed price, Covad has become a likely takeover target. "We believe Covad could prove a valuable buyout candidate for the deep-pocketed Internet, telecom, or media players," says Roness. Some of the company's major customers include Oracle, AT&T, and Qwest Communications.
SBC Communications has bought $150 million worth of Covad shares as part of a pact to resell Covad lines. Covad has yet to post earnings, but its revenues have soared. Roness expects revenues to jump from $66.5 million in 1999 to $263 million in 2000, and to $545 million in 2001. He expects Covad to be in the black in 2002.