business
Commentary: The Four Horsemen Of The New Economy
Spencer Ante
What are we supposed to think about the technology sector these days? As signs of a demand slowdown emerge, tech stocks are pitching and reeling. Internet retailers and other dot-coms are cratering every day. And even industry stars such as Oracle Corp. are getting creamed if their otherwise stellar performance doesn't quite match expectations.
Not so long ago, it was a lot simpler to get a sense of how tech companies were doing. In the mainframe era, IBM was the dominant manufacturer and the industry's guiding light. In the 1990s, Microsoft and Intel, which made the software and chips for virtually all personal computers, were the best gauge of high tech's health. While all three remain forces to be reckoned with, they no longer provide definitive guidance about the tech economy. The Wintel duopoly, for example, is too tied to the PC-centric past and isn't driving the Net era of electronic business. Clearly, new proxies are needed for taking the pulse of this higher tech age.
BUILDING BLOCKS. Meet the new bosses: the Four Horsemen of the New Economy. More than any other collection of companies, Oracle, Sun Microsystems, EMC, and Cisco Systems represent the building blocks of Net business. Chances are, every company moving online will buy a piece of hardware or software from one of these four giants. Cisco makes the routers that do the heavy lifting--shuttling a corporation's data to and from the Net. Sun sells the Web servers that produce millions of Web pages. EMC is the storage king that holds the sea of ones and zeroes that make up digital information. And Oracle makes the database and e-commerce software that enables companies to digitize catalogs, process transactions, and move businesses online.
This group's importance was underscored on Sept. 15, when Redwood Shores (Calif.)-based Oracle announced results for its fiscal first quarter. It reported earnings of 17 cents per share, beating the expectations of Wall Street analysts by a fat 4 cents margin. But skittish investors paid a lot more attention to another number: Sales of Oracle's applications software, which includes its new business-to-business e-commerce software, climbed by 42% to $156 million--while analysts expected 50% to 65% growth. Investors responded by knocking Oracle's shares down 7.7%, to 78 5/16.
Chalk it up to the burdens of leadership. Over the past year, the stocks of the Four Horsemen have been bid up to 100 times earnings or more, compared with an average of 29 times earnings for the companies that make up the Standard & Poor's 500. With those kinds of valuations, even modest missteps are penalized. But let's be clear about what happened: While Oracle missed one number by a slight margin, its overall performance remains strong. By taking its own operations online and streamlining its business processes, it boosted profitability substantially. This past quarter, Oracle drove its operating margins up to 29.1% from 17.4% in the prior year's quarter. What's more, revenues for fiscal 2001 are projected to rise 20% to about $12 billion. "Investors overreacted," says John L. Manley, equity strategist at Salomon Smith Barney. "They didn't give the company enough credit."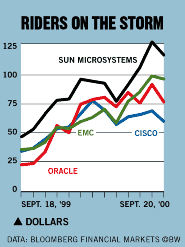 In the next six weeks, the three remaining Horsemen are slated to report their financial results. How they perform should give a good indication of whether the current market turmoil is just a blip or a serious long-term problem. If Sun, EMC, and Cisco meet or exceed Wall Street's revenue growth expectations of as much as 40%, the tech economy should remain strong. That should stabilize the queasy stock market. But if the three Horsemen miss their numbers, look out below.
Certainly, the high-tech industry is more complex and quicksilver than ever. But, regardless of short-term market antics, the Four Horsemen currently are providing the best barometer of the New Economy.
Before it's here, it's on the Bloomberg Terminal.
LEARN MORE