Commentary: Most Of Gillette's Bleeding Is Self Inflicted
William C. Symonds
Few investors should have been surprised by Gillette's Sept. 18 warning that it would miss third-quarter earnings estimates. Such warnings have become par for the course at the consumer-goods giant, which until two years ago was one of the most admired and predictable performers. Through mid-1998, it racked up 32 straight quarters of double-digit growth in earnings per share. Since then, senior managers have repeatedly promised investors a return to those glory days--and repeatedly failed to get there.
Instead, sales growth has stalled, net earnings are still below 1997's $1.4 billion peak, and Gillette's stock--once a bellwether of the bull market--has sunk to around $28, a 55% slide from its peak in early '99. All of which is fueling investor unrest and takeover talk. "If there is no improvement forthcoming within a reasonable time," warns Robert Torray, CEO of B. Torray Cos., which owns around 5 million shares, "there will be enormous pressure on this board."
SLEEPY BOARD. Torray and other investors note that Gillette still has a strong franchise. But to realize its potential, management must move far more aggressively to revitalize core businesses, especially batteries, while cutting costs and underperforming units. And the board--which includes such presumably savvy investors as Warren E. Buffett and Henry R. Kravis--must make it clear that if management can't deliver, fresh blood will be brought in. This board "has been sleepy," complains one analyst.
Admittedly, Gillette executives have had to contend with some difficult global conditions. In the current quarter, the decline in the euro is expected to wipe out what would have been a 6% growth in sales. And in fairness, with consumer spending slowing, the stock market is down on many consumer brands.
But management still bears much of the responsibility for Gillette's weak results. "They painted everything with roses, even when they knew there were thorns on the roses," says Gary Stibel, founder and principal of New England Consulting Group, a consumer goods expert. Many on Wall Street blame such boastfulness on the fact that virtually all of Gillette's executives have come up through the ranks, including CEO Michael C. Hawley, a four-decade veteran. Along the way, Gillette's execs adopted the belief that they could transfer their enormous success in shaving products to wildly disparate businesses, from shampoo to pens.
That hasn't happened. Gillette has wasted years trying to fix businesses that were a drag on earnings. The pen division, for instance, earned just $18 million in operating profits on $743 million in sales last year.
The company has also been slow to recognize its failures. Hawley didn't sell White Rain shampoo, a perennial dog, until March. He only announced a deal in August to sell the pen unit, which is expected to create a $428 million aftertax loss. And he's clinging to the Braun household appliance business, even though the $600 million unit "is a big question mark that's barely profitable," says Constance Maneaty, an analyst at Prudential Securities Inc.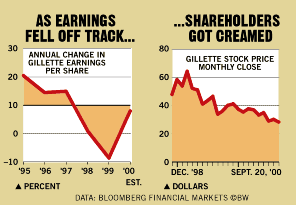 Meanwhile, Gillette's efforts in batteries have had mixed results. Brand managers have focused on moving consumers into premium-priced Duracell Ultra batteries. But while Ultra has been a hit, Rayovac has eaten Duracell's lunch at the low end of the battery market through aggressive discounting. Over the past year, sales of Duracell's main Copper & Black brand have slipped 2.7%, according to Information Resources Inc., while Rayovac has surged 37%.
To be sure, not everything is troubled. "The most important business--razor blades--is still operating well," says investor Henry Asher, President of Northstar Group. And Hawley has a detailed turnaround plan, which includes more marketing at Duracell, cutting over $1 billion in costs by 2002, and lots of new products. The question is whether that will simply mean more promises, or, finally, some results.
Before it's here, it's on the Bloomberg Terminal.
LEARN MORE