U.S.: Sure, The New Economy Gospel Is Winning More Converts
Still, economists expect slower productivity growth next year
By
It sounds like the nation's business economists are starting to sing "Gimme that New Economy religion." As the National Association for Business Economics gathered in Chicago from Sept. 10-13 for its annual meeting, there was far more discussion of the blessings of technology and productivity than at past affairs. Even Dallas Federal Reserve Bank President Robert McTeer, easily the Fed's most vocal New Economy advocate, was on hand to deliver a rousing sermon.
The economists' optimistic forecasts for 2001 reflect the shifting beliefs (table). They look for the Fed's past interest-rate hikes to slow growth from 4.1% in 2000 to a still-healthy 3.3% in 2001. That pace will keep the labor markets strong, they say, with the unemployment rate only edging up to 4.2% next year, from 4% this year. At the same time, they believe that the economy's higher noninflationary speed limit, made possible by rapid productivity growth, will allow inflation to fall to 2.6% next year, from 3.3% this year, as oil prices come back down.
An NABE survey noted that economists have "substantially" lifted their estimates of this speed limit, to 3.8% annually. That's up from a median estimate of 3.2% at the end of 1999 and from 2.9% in mid-1999. The new figure reflects the belief that the long-term growth rate of productivity is now 2.8%, instead of the 2% thought in mid-1999.
When asked how long the current technology boom would continue to boost productivity, more than half expected the benefit to continue for the next five years. Some three-fourths thought the impact would last for three to five more years. Moreover, when asked if the Internet had "enabled your company" to cut costs or prices, more than a third responded "yes, significantly."
ONE TRADITIONAL CONCEPT that took a beating in Chicago was what economists call NAIRU, or Non-Accelerating Inflation Rate of Unemployment. In plain English, it is the lowest level that the jobless rate can go without pushing up inflation. A few years ago, NAIRU was generally thought to be about 6%. Now, the median estimate of the economists surveyed is 4.5%, within a wide range of 3.8% to 5%, suggesting that analysts just don't know any more.
In response to a special survey question from the Dallas Fed's McTeer, only 37% of economists said that NAIRU was still a "useful concept," with 40% saying it was of "very limited use," and 17% called it "useless." The joke going around was that maybe the acronym should be changed to: Nothing About Inflation is Related to Unemployment.
To be sure, the economics community has not turned overnight into New Economy zealots. Chicago Federal Reserve Bank President Michael Moskow, who spoke on Sept. 12, seemed to sum up the general feeling that technology and productivity play a key role in U.S. economic performance, but that plenty of uncertainties still abound, not only regarding the permanence of those benefits, but also about the unknown impact of two other big structural changes: a new global wave of cross-border flows of goods and capital and accelerating innovations in financial-market instruments, including derivatives.
THESE UNCERTAINTIES show up in the economists' unusually wide range of forecasts. Projections for 2001 growth of real gross domestic product among the members of the NABE's forecast panel spanned from a low of 0.9% to a high of 4.7%. If you read between the lines of the broad forecast numbers, some big question marks about next year pop up.
First, analysts expect the trade deficit to widen in the coming year. The trade gap and the strong dollar have supplied key anti-inflation benefits. However, the ever-mounting U.S. debt to foreigners makes the greenback vulnerable to a shift of investment away from U.S. assets if growth prospects in the U.S. begin to compare less favorably with those elsewhere. In the second quarter, the broad U.S. current-account deficit climbed to $106.1 billion. At an annual rate, that is a record 4.3% of GDP (chart).
Second, partly reflecting the expected slowdown in overall economic growth, the forecasters look for productivity growth to slow from 3.8% in 2000, to 2.7% in 2001. They also see labor compensation growing 4.8%, about the same as in 2000. What that implies, although the economists don't forecast it explicitly, is an acceleration in the growth of unit labor costs from 0.9% to 2.1%.
If that comes to pass, then either the expected slowdown in inflation next year will be hard to achieve or profits could suffer a lot more than investors think they are going to. Either way, the risk is a weaker-than-expected stock market that could act as an additional drag on the economy. Already, the forecasters believe that growth in aftertax profits will slow from 14.3% this year to 5% next year. And if labor compensation continues to speed up, as it is now doing, the squeeze could get even worse.
ANOTHER KEY RISK in the outlook is oil. Economists at J.P. Morgan & Co. estimate that every $10 increase in the price of a barrel of oil cuts about half a percentage point annually from real GDP growth, with an even higher impact on consumer spending. Put another way, an oil price increase of $10 will have the same impact on the economy as a $50 billion tax hike.
After getting hammered by higher gasoline prices this summer, a key reason consumer spending slowed, households now face another blow this winter from skyrocketing prices for heating oil (chart). The NABE forecasters already expect growth in consumer spending to slow, from 5.2% in 2000 to 3.1% in 2001, and they are assuming that oil prices decline from their current levels. A harsh winter would challenge that assumption, as well as the spending forecast.
One thing the economists seemed to agree on is their high level of confidence in recent monetary-policy decisions. In response to a traditional survey question, an unusually large three-fourths said that Fed policy had been "about right" during the first half of 2000.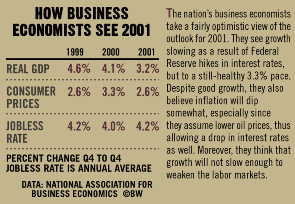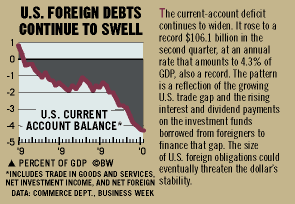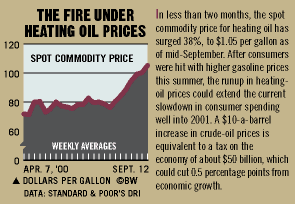 The forecasters' median projection of slightly declining short-term interest rates for 2001 implies a belief that the Fed is finished with its recent round of tightening. They expect the rate on the three-month Treasury bill to slip from 6.09% at the time of the survey to 5.9% by the end of next year. This is a more bullish forecast than the one taken in May, when the economists had expected a slightly more aggressive Fed tightening.
The economists' overall outlook boils down to faith in the Federal Reserve, and in the Fed's willingness to give policy a New Economy slant. That's undoubtedly a big reason the economists seem to be a much happier lot this year than they were at this time last year, when they were forecasting 2000 growth at an uninspiring 2.6% clip. As Brother McTeer might say, amen to that.