France: High Rates Put A Big Dent In The Economy
By
The economy seems to be feeling the effects of higher interest rates by more than was expected. But growth hasn't slowed enough to be worrisome.
Real gross domestic product expanded 0.7% in the second quarter from the first. That pace was unchanged from the first quarter, and it was below expectations. For the year, France's real GDP is up 3.4%, just slightly below the 3.5% yearly growth of the first quarter (chart). With growth slower than expected in the first half, the French statistical agency said that in October it will revise down its current forecast of 3.5% growth for 2000.
Consumer spending last quarter edged up just 0.2%, the smallest gain in more than a year. And the monthly data show that economic activity slowed at the quarter's end. French unemployment rose in June, from 9.6% to 9.7%, and industrial production fell sharply. But the Labor Ministry said that some of the rise in the jobless rate was the result of graduates looking for work earlier than usual. If the increase in joblessness is temporary, then domestic demand will pick up.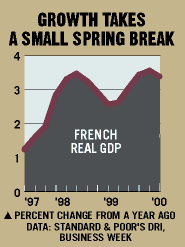 To ensure the revival of consumer demand, the government of Prime Minister Lionel Jospin announced on Sept. 3 a tax-reduction package totaling 120 billion francs ($16.4 billion). The plan would include lower tax rates, an elimination of some social security taxes paid by low-wage earners, and an end to the road tax. The three-year plan is in addition to the 80-billion franc cuts already in place for 2000. Stronger-than-anticipated tax revenues, the result of a healthy economy, make the tax reductions possible.
One of France's key obstacles to maintaining economic momentum may be the current round of tightening by the European Central Bank. The ECB hiked short-term rates by a quarter point on Aug. 31, the sixth increase in 10 months. The bank's aim is to slow inflation in the euro zone. But in France, where consumer prices are up just 1.7% in the year ended in July, growth and jobs seem to be the preferred goal for policymakers.