Fasten Your Seat Belt It's Going To Be A Bumpy Quarter For Europe's Economy
High oil prices and a shaky euro threaten growth
David Fairlamb
It was a moment of rare relief. On Sept. 13, European Central Bank President Wim Duisenberg said the euro's value doesn't reflect the strong prospects for economic growth in the region. The euro climbed as a result. Finally, a central banker uttered something that didn't drive the beleaguered currency down further.
But the chances for a permanent rebound are slim. It's increasingly clear that Europe is being hit by a double whammy: Its currency is sinking at a time when oil prices are gyrating near 10-year highs. A crisis? Not yet. But the pieces are coming together for a very difficult quarter.
There are no signs that the situation will correct itself soon. Oil prices are putting pressure on a currency that has been weak for more than a year. For now, inflation is subdued. But it's bound to take off if oil prices keep climbing. Already, rising energy prices have sparked a wave of protests. Large numbers of big oil-dependent companies are also being hit hard. Italian airline Alitalia, German chemical giant BASF, and Dutch transport company Frans Maas are just a few of the many companies that say their profits are being squeezed. "The explosive rise in fuel costs has led to a sharp increase in prices that we've [so far] been unable to pass on in full to customers because the market is so competitive," says a senior Frans Maas official.
U.S. companies with operations in Europe are getting pinched, too. DuPont Chairman and CEO Charles O. Holliday says the weak euro will have a "significant" impact on earnings. Instead of the 17% to 20% increase in profits Holliday had originally predicted for this year, profits will grow just 10% to 14%.
The biggest worry is that ever-higher oil prices could slow buoyant economic growth in the 11-nation euro zone, which is currently forecast to top 3.6% this year and next. "The enormous oil-price increase leads to a flow of purchasing power out of the European Union," says German Finance Minister Hans Eichel. That could sap consumer spending and cause the economy to slow--and that's bad news for the euro's guardians at the ECB, because the euro zone needs to grow faster, not slower, if it is to close its performance gap with the U.S., attract more investment, and reverse the currency's slide.
LOWER AND LOWER? Currency traders and European Commission President Romano Prodi are calling on the ECB to intervene to prop up the euro. That's unlikely anytime soon. The ECB has so little credibility in the markets right now that it would need the support of the U.S. Federal Reserve to be sure of success. And Fed officials have made it clear in private that there is no chance of them helping to push the dollar down this side of the Presidential election. Nor can the ECB raise interest rates much further. The consensus in the market is that the euro is destined to go lower--possibly as low as 75 cents--before the tide turns. "No one wants to hold a depreciating currency," says Robin Marshall, director of European research at Chase Manhattan Bank in London.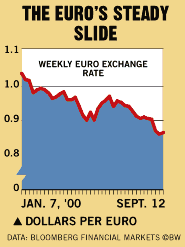 It's a dangerous brew. Public support for the euro is plummeting. Unless it strengthens, the weak currency risks unleashing inflation, damaging growth, and destroying what little investor faith is left in euro-denominated assets. The policymakers need to speak with one voice, push through structural reforms more quickly, and overhaul decision-making structures so that they are more effective. Until they do that, the euro will continue to flounder. No serious pundits think that economic and monetary union is headed for collapse. But the euro zone is facing a crisis of confidence that could sap the euro's strength for months, and maybe years, to come.
Before it's here, it's on the Bloomberg Terminal.
LEARN MORE