Most retailers have seen their shares pummeled, and Gap (GPS) has been no exception. Its stock, now at 25, is down 45% so far this year. This specialty apparel company, which operates Gap, Banana Republic, and Old Navy stores, has had worse-than-expected earnings in the past three quarters. So why is growth money manager David Post, of the investment outfit Harris Bretall Sullivan & Smith, so upbeat on the stock?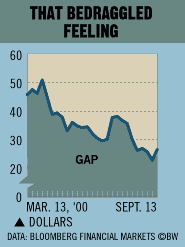 "Based on valuation and earnings prospects, we don't see any more downside to the stock," says Post. The Gap, he says, has a history of bouncing back from similar situations in the past and it has been addressing the cause of the earnings shortfalls. The big success of fashion apparel at the Gap and Old Navy stores last year was hard to beat this year, says Post. The slowed economy did not help, and a one-time distribution snafu had delayed a shipment of its new fashion apparel. Post expects Gap to snap back from such problems. He says 2000 profits will be off, to $1.15 a share, from 1999's $1.26, but should jump to $1.45 in 2001 and to $1.75 in 2002. Post sees the stock doubling in 18 months.
Before it's here, it's on the Bloomberg Terminal.
LEARN MORE