Commentary: Hp's Consulting Bet: Why Investors Are Anxious
By and
It should have been a big week for Hewlett-Packard Co.: On Sept. 11, the computer maker confirmed rumors that it was negotiating to buy the management-consulting practice of accountants PricewaterhouseCoopers for up to $18 billion. Then on Sept. 12, HP Chairwoman Carleton S. Fiorina took to the stage in a Wall Street hotel to launch HP's new Superdome computers--million-dollar machines meant to run the most demanding e-commerce and corporate software.
So why are HP's shares in a funk? Since Sept. 8, they have slid from $121 to $105--a far bigger drop than the 2.1% decline in the Nasdaq Composite Index. Sure, buying PWC would move HP in the right direction. But many investors fear it will have trouble making the acquisition work. The deal is "a disaster waiting to happen," says analyst Tom Rodenhauser of Consulting Information Services, which tracks industry trends.
DOWN MARKET? Why's that? For starters, the PWC unit that HP is after has 31,000 consultants, more than a third of HP's existing workforce of 86,000. Those consultants are used to working for a service-oriented partnership, not a publicly traded hardware maker. Other consultancies would love to raid the crew, and the PWC consultants could see joining HP "as going down market," says Forrester Research analyst Christine Ferrussi Ross. Unless HP can effectively address those concerns, as many as two-thirds of PWC's consultants could bolt if the deal goes through, warns Dataquest Inc. analyst Dennis Wayson.
HP has little choice but to try. Adding consulting services to hardware sales is essential these days. Companies realize their decisions about information technology, and especially the Internet, have a profound effect on revenues, profits, and their future direction. And many are looking for independent advice--a trend that will create a $472 billion global market for tech services by 2003, say researchers IDC. That trend has helped reshape companies such as IBM, which last year derived 31% of its revenues from services, up from 12% in 1993.
So far, HP has become little more than an also-ran in consulting. Its services division has a staff of 6,000, which generates revenues of $7.2 billion. But just $1.5 billion comes from consulting--not even in the top 10 globally, says industry watchdog Lafferty Group. Acquiring PWC would catapult HP into the big leagues. Combined, the two would generate some $12 billion in annual services revenues, according to Sanford C. Bernstein analyst Toni Sacconaghi--placing the company behind only IBM and Electronic Data Systems.
Still, the deal would be far from a sure thing. It took nearly two years for PWC to gel after the former Price Waterhouse and Coopers & Lybrand merged. To now combine it with HP's Silicon Valley culture could create more turbulence. Consider the turmoil that followed Compaq Computer Corp.'s 1998 acquisition of Digital Equipment Corp., largely for its services unit. Division chief John J. Rando quit a year after the deal went through, and hundreds of DEC's top consultants followed. "Anytime you bring two big organizations together with different cultures, you have a lot of integration issues to work on," says Laura Farnham, marketing vice-president for Compaq's Global Services unit.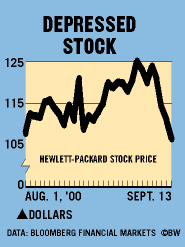 And don't forget that many of PWC's clients chose the firm for its independence--something that may be compromised by a tie to HP. Although IBM and other consultants linked to computer makers often suggest hardware made by competitors, rival consulting firms are licking their chops. "People will be asking questions about whether this changes the nature of the advice they're receiving," says Richard Boulton, managing partner for Arthur Andersen's business-consulting unit.
Clearly, buying PWC will create challenges unlike any Fiorina has encountered in her 14 months at HP's helm. But keeping up with the rapid changes in technology requires bold moves. Pulling such a deal together will be tough--though no tougher than facing the risks of slipping behind rivals without it.