Coming In Clearer At Qualcomm
by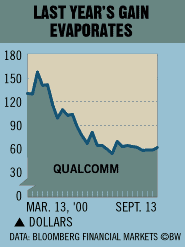 Qualcomm (QCOM), the market's No. 1 stock last year--with a twentyfold gain--has been taking a tumble so far this year, down a hefty 60%, at 64 a share. Other wireless stocks, such as Motorola and Ericsson, have also been struggling. But Qualcomm, creator of the advanced and fast-growing digital wireless telephone technology called CDMA (code division multiple access) may be in a strong comeback mode. So says money manager Graham Tanaka, who heads Tanaka Capital Management. Its Tanaka Growth Fund has racked up a 21.4% gain this year through Aug. 31, compared with a 4% advance for the Standard & Poor's 500-stock index. Tanaka argues that some of the big negatives that hurt the stock have now turned positive. China, says Tanaka, has decided to use CDMA for its wireless phones again, after briefly replacing it with a competing technology. And he says that sales of wireless phones in Korea, which uses CDMA in its wireless system, have bounced back. Then in 2001, Qualcomm will roll out its next version of CDMA technology, which provides full Internet access.
"Qualcomm is destined to be the Intel in wireless space, as CDMA becomes the standard in wireless technology," says Tanaka. CDMA offers superior performance, he points out, compared with other digital technologies in terms of sound quality and data delivery, allowing a greater number of calls within an allocated frequency. Tanaka sees Qualcomm shares hitting 150 in three years, based on his earnings estimates of $1.03 a share in fiscal 2000 ending Sept. 30, nearly $2 in 2001, and $3 in 2002.
Before it's here, it's on the Bloomberg Terminal.
LEARN MORE