Cable Vs. Dsl: Which One Is The Tortoise?
Suddenly, phone companies look poised to snatch the lead
By
Only a few months ago, the race to provide speedy Internet access would have been an easy call. Cable operators were getting fast modems to market much quicker than phone companies could provide their alternative: A Net-access service called digital subscriber line (DSL).
But fortunes turn quickly in the Internet Age. Cable companies have run into component shortages. And their infrastructure has proven difficult to upgrade. As for the Bells, with margins in their traditional phone services shrinking, they've been given sharper incentives to chase new, higher-growth services--namely DSL. So they've recently committed to adding the staff and improving the technology needed to roll out DSL faster and more broadly than anyone would have predicted.
The result: DSL service is now gaining a march on cable modems. According to industry tracker Cahners In-Stat of Scottsdale, Ariz., DSL equipment sales are now expected to grow at a robust 48% in the fourth quarter, dwarfing the 5% growth rate of cable modems. Although the cable companies still maintain an edge in total subscribers, with double the subscribers of DSL carriers, at current growth rates cable modems will take a back seat to DSL by 2002--or sooner.
Leading DSL's comeback is SBC. The San Antonio (Tex.)-based Bell has accelerated a $6 billion project unveiled last year to roll out DSL nationwide. The company says it's on track to nab 1 million customers from California to Texas and Illinois by the end of the year. Similarly, New York-based Verizon's subscriber rolls have ballooned from 30,000 at the beginning of 2000 to more than 250,000 today. That's likely to grow to 500,000 households by December. Qwest, which just announced a restructuring of its business around high-speed access, has 175,000 DSL subscribers, up 280% over the middle of last year. By year's end it should hit 250,000 subscribers. "SBC and the other Bells are coming," says Adam Guglielmi, a DSL analyst for researcher TeleChoice Inc. "And they're able to upgrade a lot faster than the cable guys."
In part, that's because cable companies have been stalled by technology challenges and equipment shortages. A dearth of parts needed to make cable modems has caused some of the slowdown. But cable providers are also faced with the daunting and expensive task of upgrading their one-way cable pipelines to the two-way lanes needed for Internet traffic. And they have also been dogged by consumer frustration over service that slows when too many users are retrieving or sending data on the same line. That's why Time Warner and others have been splitting the hubs that reach each neighborhood so that one serves, say, 250 people rather than 500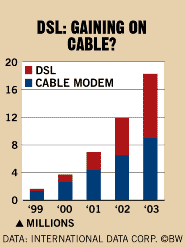 DESPERATE? For now, much of the cable companies' lead is due to thpeir reach into mid-size markets such as Portland, Me., and Orange County, Calif. But a prominent advertising battle is spreading the fight throughout the country. Earlier this year, SBC ran a series of ads in hot markets like California and Texas that poked fun at cable's speed problem. RoadRunner, a cable-joint venture between Time Warner and AT&T has countered with a series of spots that ridicule the installation nightmares some DSL customers have experienced. Other regions have been marked by similar campaigns. But truth to tell, delivering service that's as fast and easily installed as advertised has been a big sticking point for both sides.
With the battle now truly joined, cable operators are hardly raising white flags. On Sept. 1, AT&T unwrapped aggressive new promotions: up to three months of free cable modem service and up to five months of free phone service over cable in 10 markets. A "desperate" move, as one rival puts it? Or, as AT&T execs view things, a creative way to over come the "inertia" of customers? If so, that's the only thing inert about a market that's rapidly heating up.